The Nature Explore Classroom at
North Branch Arts/Creativo!
Community Garden
North Branch Arts has created a beautiful and inviting green learning space in an unused alley in the city of Edgebrook.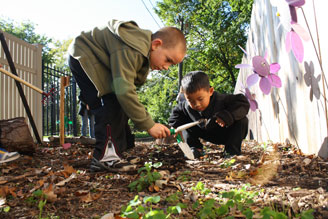 This site is also certified as a City of Chicago Green Corps garden to reduce emissions, as part of Chicago's climate action plan. Creativo! families fundraised for over three years to make this community garden and outdoor classroom a reality. While Creativo! is the corporate sponsor of the garden, the completion of the project spring-boarded into the launch of a non-profit community arts center called North Branch Arts.
This garden is open to the public and is the site of storytelling, art and craft classes and gardening demonstrations. In partnership with MedSpa, next door, an additional grassy area of the parking lot was included as garden space. Produce from the organic garden will be donated to a local homeless shelter as well as supplementing the meals and snacks of the preschool and after school programs.
Engraved bricks, with family names on them, invite people to spend time in this green, calming oasis. Trees and native plants are scattered throughout the garden, creating a soft, welcome sense of peace and tranquility. Huge stumps dot the climbing area and allow for surveying the grounds from multiple perspectives.
Time in the garden allows exploration, learning and skill-building. As children dig and climb, they successfully master physical challenges, while gaining self-confidence and a sense of control over their environment. Maneuvering rocks, wooden blocks, shovels and buckets and even tomatoes, provides children with many chances to strengthen visual-spatial, mathematical and abstract thinking.

Address
6431 N. Kinzua
Chicago, IL 60646