Northeast Iowa Community College
Child Development Center
NICC continues to sustain the Nature Explore playground. Natural grasses, planted 2 years ago, flourished this year and provided needed growth to separate play area and created a maze-like area in the large motor plan area.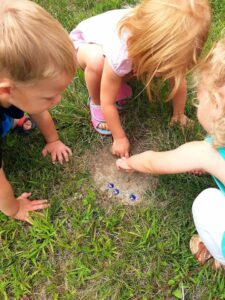 The playground is surrounded by two butterfly gardens which provide flowers from late May to mid September. Green Iowa Americore is part of the curriculum now and assist with sustainability and nature programming in the area. In July of this year, the campus was hit by a severe storm which resulted in the build and play equipment being destroyed. The college will replace this and plans on adding more pieces for next summer. Given this equipment weighed a minimum of 80 pounds, the wind tossed these items about 100′ outside of the playground area.