The Nature Explore Classroom at
Operation Breakthrough
The Nature Explore Classroom located at Operation Breakthrough started as a vacant lot in the inner city of Kansas City, MO.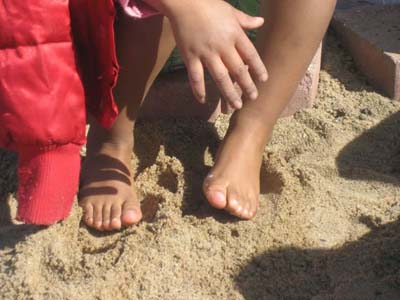 The overall plan was developed at the beginning of the project that respected the five existing large trees and the other natural elements already in place there. As the space developed, a landscape architect was consulted to bring in plants that would provide seasonal color and interesting textures while incorporating hardy native Missouri plants. These plants have been used to provide separation of areas and a natural flow.
Partnering with employees from Burns and McDonnell, a fence was designed and constructed from recycled doors and then used to border the building area. A vegetable garden was planted in a group of square raised beds circling an herb garden. A rain garden was incorporated to solve a runoff issue from a sloping space while an irrigation system ensures growth in other areas.
A pathway leads children through this magical space which is marked with wood- burned signs which clearly identify each of the interest areas. Acrylic covered pictures also show children engaged in activities. Many visual cues are used in the classroom as well. The butterfly garden bed is in the shape of a butterfly and a slightly elevated area in the shape of a hippo creates a wonderful and interesting play space. The initial design included a small sand area, but as this area became very popular, it was doubled in size.
The Art Area, containing three Plexiglas easels, is surrounded by a garden fence making this area a cozy, quiet place to work on masterpieces. Trees and tree stumps border the Gathering Area and also provide seating and climbing opportunities.
A formal dedication was held in the fall and many family events are held throughout the year to connect families with nature. The therapy department recently held a horticulture therapy group in the classroom titled, "Art in the Garden". This class aids individuals through the interaction of people and plants using gardening activities. Teachers continue to build family awareness by documenting children's current projects and learning experiences.

see most recent
Address
3039 Troost Avenue
Kansas City, MO 64109
Classroom website
Facebook