Orange Coast College
Early Childhood Lab School
During the 2021-2022 school year, the Lab School continued to place great emphasis on revitalizing the outdoor classrooms to provide children with a variety of outdoor learning materials.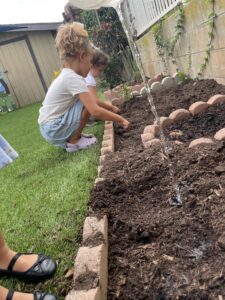 After the end of the school year last year, we were able to have someone come out to level the dirt on the side yard and lay new turf. What a huge difference it made in the appearance and usable space for the children. In addition, this allowed a fresh start in creating an additional outdoor space for children to utilize to explore what the outdoors allows for!
To start, new signs were made for each of the learning areas. The Pre-k class has a plan to develop and personalize this outdoor space by working together on outdoor projects. We are excited to share that the first project included creating and planting a garden. With donations from families and children's help, areas were selected and prepared for planting tomatoes, herbs, vegetables, and flowers. The development of this space in conjunction with our Big Yard, has allowed children more time and opportunity to engage in an outdoor environment.
The Preschool Class created a formal writing area in the outdoor environment! We added a new rug, a big wooden table, and plenty of writing materials and tools. The writing area has been a place of discovery as the children begin to practice pre-writing skills. Fine motor strength and control are challenged as they work hard on their cutting skills, tracing templates, and grasping techniques with markers, crayons, chalk, or even hole punchers. When using their fine motor skills to make marks on paper, the children understand that their scribbling marks are meaningful.
One popular area in our outdoor classroom is the sensory and sand area. Children are given a variety of materials to manipulate as they work alongside other children. Language and math skills are also enhanced as the children measure and calculate how much of the sensory item they need. The sensory tables are positive places for the children to generate conversations. This is another area where teachers can guide them in their problem-solving skills and cognitive development. Sensory experiences allow them to not only develop their senses but are an excellent opportunity to build social skills. Collaboration and teamwork in our outdoor environment provides children with the opportunities to encourage peer interactions and group participation skills.
Every year new groups of young two- and three-year-old children as well as our Learning Link families come to enjoy our YPS outdoor classroom. As they explore their new environment, they discover the insects, plants and animals that make their homes there. In this environment, children discover they can create beautiful paintings with some of the leaves and herbs tied to twigs. We plant dried corn to see if it will sprout. When it does, we place it outside in our sensory garden to watch and measure its growth. We wonder why one became moldy and the other did not? We speculate as to who might be eating the kernels while we are away. Are they eating our pumpkins too? Each morning we discover one more pumpkin or gourd has been nibbled. Squirrel sometimes comes to visit us while we eat our snacks under the mulberry tree, we think it might be him.
In the sand area, odds and ends of pipes were sitting unused. Attaching them to our climber has given an often forgotten area of our yard new life. Balls, sand, water, and even small pumpkins and gourds race through as children try to catch them with buckets. Our music wall once covered with copper and silver kitchen utensils was beginning to rust and corrode. Our new music wall is almost ready for installation! It will include colorful bells, xylophones, steel drums and water bells. We cannot wait to hear the joyful noise the children will create!
The Lab School's outdoor classrooms inspire children's daily play and curiosity. Their experiences develop self discovery each time they are one with the outdoors. We welcome each new day watching children flourish.