Orange Coast College
Early Childhood Lab School
2020 has brought about many uncertainties and changes to the Early Childhood Lab School. The one constant that we are grateful for is having access to wonderful outdoor spaces for all children to explore and learn. We are fortunate to have three separate outdoor spaces that are currently being extensively used as our classrooms, learning spaces and safe-havens.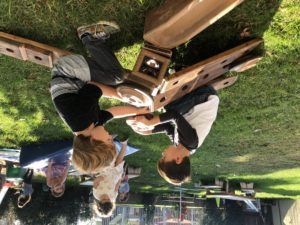 Young Preschool (YPS) Outdoor Classroom
The YPS classes are thoroughly enjoying the fresh air and sunshine of the outdoor environment. We have long considered the outdoor area to be a true classroom, as opposed to just a playground for "recess" in-between "learning". Art, sensory, music, literature, physical and natural science, mathematics, large and fine motor, writing, and dramatic play are all available outside as they are inside. This year, longer blocks of time are allowing us to see more of nature within our little yard. Children and teachers are stopping to watch the spiders in their webs, finding them in plants, under chairs, logs, tricycles, and up in the leaves of our Mulberry tree! We have planted winter vegetables and then wondered why some of them were eaten while we were away, but others were not? Could it be the marigolds? Should we plant more marigolds to see if it helps? Let's try it! We see the squirrels in the trees, and we wonder if it was them. We know they like the pretzels and raisins dropped from our snack time… do they like vegetables too?
The children have been exploring ramps in many areas of our yard. Boards have become ramps for cars, gutters transport water to our sand kitchen, others angle off our climbers, sensory tables, or basketball hoop. The children have experimented with various sized balls, pinecones, leaves, rocks, and pumpkins. They are discovering that if they work together, they can unplug leaf dams, alter angles which adjust the speed of the cars, and they support and assist each other as they work to walk up the slide!
Preschool Big Yard
The preschool class has enjoyed exploring the outdoor environment more this school year than in years past. To make the outdoor classroom more comfortable and bear the sunshine, roller shades have been installed to shade the writing and math/manipulative areas. In addition, three pergola gazebos are the newest additions to the open grass area and snack area. With the additional time being spent outdoors, shade has become a necessity to ensure the safety and well being of our children and staff.
Due to the pandemic and the recommended guidelines of spending a majority of time outdoors, we redesigned the big yard in the school to include all the learning centers that are available in the indoor classroom to the outdoor classroom. The children engage in age-appropriate activities that have been intentionally planned for by the teachers to meet children's interests. One of their favorite areas is the Sand Kitchen. The children start their day pretending to cook meals for their teachers and classmates; they utilize water, sand, and natural materials, such as rocks and pinecones. In the garden area, the children have been planting vegetables, watering the plants, and picking up dry leaves. The children have been fascinated by spiders in the growing gardens and observed spider webs, which has resulted in the teachers taking this opportunity to incorporate spiders into the daily curriculum.
Our focus is to support children in their development of social skills such as turn-taking, listening, peer interaction, group participation, respecting each other's feelings, impulse control, and getting used to the routines. Playing outdoors has promoted all these skills since we started school. The children have displayed cooperation and teamwork, as they help give each other rides while pushing bikes over the bumpy road! In the sandbox, they have also been working cooperatively as they played with the new trucks and worked together to dig holes in the sand and bury dinosaur fossils.
The preschool class thoroughly enjoys each other's company and really likes to eat snacks together, so it has been very helpful to have a big outdoor snack area to accommodate them. They love to sit at the tables and eat their snack under the gazebo and find the outdoor environment very pleasant. The outdoor play enables the children to appreciate nature and take care of the living things outside. It also allows them to use their creativity and imagination while increasing their physical activity. Now more than ever children need to feel safe and free to be outdoors.
Pre-K Side Yard
During a normal school year, this area of our school was used specifically for school events and served as a lunch area for children. The Pre-K class has taken ownership of the area and collaboratively created another outdoor classroom. The children have played an active role in the new outdoor classroom design. Spending additional time outside, we really looked at how we can bring the inside out, especially for our parents with concerns about their children being prepared for kindergarten. Every learning center we normally would have inside our classroom has now also come out to the side yard. The side yard gives us additional space to offer an inside/outside free flow environment, which allows for children and staff to be physically distanced in our class. There is a writing table, art area, micro dramatic play, block building, science, math, and book area available to children both indoors and out.
The Outlast blocks and shed have been refinished, bringing life back to them and drawing attention from the children. Children have built spaceships, kitty houses, obstacle courses, and any other creative ideas that spark their imagination. Another recent focus has been to enhance and maintain the garden. The children planted flowers, removed weeds, and have been in charge of taking care of the plants. Additional happenings in the new space include pixie dust (glitter) sparkling up the yard, tie-dyeing T-shirts, and impromptu mud pits. Children have enjoyed being around their peers and indulging in the new space. Having the opportunity to run, play, and soak up the fresh air and nature has allowed them to release energy and it is exactly what children needed upon returning to school.