Orange Coast College
Early Childhood Lab School
This year we have focused on ways to better design the outdoor learning environment to encourage social competence.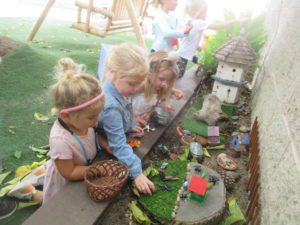 We have several clearly defined areas in our outdoor classroom that allow children to practice cooperation, responsibility, empathy, and self-control. We also offer adequate space in each area for children to play with a wide variety of developmentally appropriate learning materials. To be able to plan the new areas and improve the existing ones, the school bought a water table, easels, flannel boards, garden, sand, and art supplies.
The Art Area has been redesigned and equipped with new easels, a patio umbrella, and a variety of art materials. Painting has become a focal point for the children over the last few weeks. They dove right in and began enjoying the variety of art activities that we set out for them. Some of these activities encourage the children to work cooperatively and share materials and space.  This area enables them to develop their creative abilities as well as self-expression.
The Sand Areas outside have been very popular! We designated one of the sand boxes as a Sensory Area. At the beginning of the school year, we bought new shovels, buckets, and water wheels. Also, we added pinecones, wicker balls, and rocks to encourage the children to play with some natural materials and explore different textures.  The children enjoyed digging holes with the new shovels, pouring the sand through the new water wheels, and utilizing the wagons to transport sand, pumpkins, and flowers. In the Sand Kitchen, we added some new kitchen dishes and utensils as well as loose parts. Loose parts have encouraged the children to use their imagination and symbolic thinking skills as they have pretended to cook different meals for their peers. The possibilities are endless when children play with various props in the sand area.
In our outdoor classroom, we have an area with a wooden swing and a beautiful tree that provides us with shade and a very peaceful feeling. We created an area for stories, songs, and music, and we named it "The Magical Garden." The children have utilized the new flannel boards to listen to familiar stories, tell the stories in their own words, or make up their own stories. In the Magical Garden, we also designed a "Nature Corner" that fosters the children's imagination as they engage in making habitats for the bugs with natural materials. These two areas have been an avenue of learning communication skills.
The children have been taking care of the outdoor environment and helping decorate the art and magical garden areas. They actively participated in planting the succulents in the new pots and hanging baskets. We made new signs for the Sensory, Sand Kitchen, and Magical Garden areas.
Our Children's Garden was in need of some TLC. Some plants were overgrown, weeds were taking over, and others in need of some water.  The children were a part of this process by removing overgrown snail vine, pulling unwanted weeds and plants, raking, and watering plants to give them a second chance. Once we cleaned and prepped the garden space, then we were able to start planting new plants. In addition to our milkweed, grape vines, ferns, and many other plants this year the children added more succulents, flowers, carrots, radishes, and pumpkins. The Pre K class children have also written and drew their own garden signs for the different plants (and some that they are hoping to grow). Now many of the children take it upon themselves to water plants and pull any weeds they may see.
Our Summer Campers noticed the sign over the swing was hanging a bit crooked and some of the letters were falling off!  Even though these campers would graduate to the "Big Yard" in the Fall, they were happy to paint a new sign for the Young Preschoolers that would soon occupy this space. The word "friends" summed up all that they enjoyed on the lawn swing, and they laughed when they saw that the sign would also swing as it hung from the swing! They also helped to create a very peaceful but unused corner of the yard. Gathering baskets of bark, butterfly bush blooms, fragrant rosemary, rough rock and smooth stones, pinecones, and tree branches, cookies, and stumps to begin. Friends created imaginative burrows for the concrete gnomes riding frogs and snails and the bunnies that took up residence there. Buddha boards were added for transient water painting and enjoyed under the lovely shade of our Mulberry tree.
This semester, our Extended Day friends explore this area as well. One day they wondered about the food we eat, and would it grow if we planted the food itself. Some said, "no! you have to have seeds!" We decided to find out. We nibbled on the celery, carrot tops, leeks, cabbage, and bok choy (we almost ate it all!) before placing them into water and watched carefully over the next weeks. We had to hide them from the Squirrel but eventually they all grew!
Our youngest preschoolers are enchanted by everything outdoors. We placed the Indian corn put into a shallow dish of water and wondered how tall it might grow. They search for pill bugs, ladybugs, and worms. They lovingly rescue lizards and squeal with delighted disgust as they unearth pumpkins to observe the decay process. They are learning to "freeze" and quietly watch the spiders and the bees. Then we enjoy watching them spin their webs to catch those pesky flies or pollinate our flowers, reminding us that we all have importance!
We are proud to provide intentional activities in a beautiful outdoor classroom to foster the children's curiosity and eagerness to learn.