Palm Beach Day Academy
Once again Palm Beach Day Academy was honored as a Green School of Excellence in Palm Beach County. Through the ten consecutive years, we have achieved this honor we have continued to explore ways to provide opportunities for children to interact with nature through structured and unstructured outdoor play.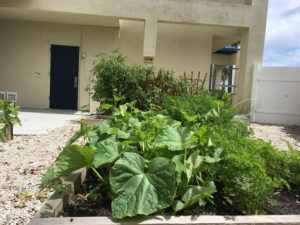 Our outdoor learning spaces include math, science, nature, music and art exploration centers, as well as a Reading Garden. Our students investigate many different environmental issues related to gardening, food systems, local and global habitats, health, and human & environment interactions. Students learn to make responsible choices, using their critical thinking skills and environmental knowledge.
Our Primary classes plant and maintain butterfly gardens throughout the year. They also plant herbs, fruits and vegetables like basil, mint, potatoes, carrots, and tomatoes. Through these projects, they observe insects, life cycles, what living things need to grow, and how they change. They also utilize outdoor learning spaces for activities including water play and painting. They continue to use the Big Blue Blocks from Imagination Playground as part of their outdoor space.
Students and teachers have worked with parents and community volunteers to revamp and enhance our gardens and outdoor learning areas. Our outdoor learning areas include garden art, which consists of our school initials constructed out of metal. These letters are mounted as shadow boxes, filled with various air plants and bromeliads, and attached to our garden wall.
Another addition to our learning areas is a 20-gallon fish tank. Modeled after a natural Florida pond habitat with all native species of plants, fish, and mollusks, this ecosystem is generally self-sustainable and is used to teach about life cycles, photosynthesis, food webs, and aquatic animal behavior.
This year we have redesigned all of our garden beds. The existing garden beds were removed and replaced with new raised organic beds. These replacement beds have not been treated with chemicals and are necessary for use in organic gardens. Parent and community volunteers have also designed and installed a new automatic irrigation system to help maintain our gardens. All of these changes to the garden beds have yielded an abundance of crops! When crops are harvested, they are either donated to local charities or are used for in house consumption. We began a new series called "Fearless Fridays" in which we partner with local chefs in our community. After the students harvest the crops grown in our school gardens, the students get to experience preparing and sampling this healthy food. Every other week students get to sample, cook with, and learn from these chefs.
Master gardeners from a local farm come and meet with students weekly. These master gardeners have taught students how to plant seeds, harvest what has grown, thin out the overgrowth, and discuss how to keep plants healthy. In addition, a parent volunteer does garden chats with classes every two weeks.
We have continued our museum partnerships with Ann Norton Sculpture Garden and Morikami Museum and Japanese Gardens. Through these partnerships, students have received instruction on many topics, including gardening and cycles of plant life. Through these community partnerships, our students are able to share the knowledge they acquire with their families through celebrations of their learning.