Parent Infant Center
Prior to COVID-19, outdoor learning and nature play were a priority at PIC. Children went out every day in all kinds of weather. Since we re-opened in July after more than a four-month closure, our Nature Explore Classroom has been more important than ever before.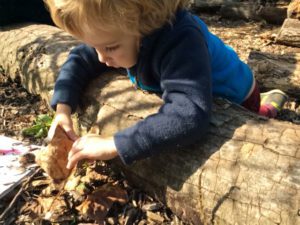 All of our children are assigned time in our shared outdoor spaces that maximize the time they can be out of the classroom each day. We are so grateful to have our big and beautiful Acadia Woods Nature Playground.
One of the most popular additions to our classroom this past year is two out-of-commission wooden rowboats that we received as a donation. Children are often climbing in for imaginary play filled with exploration, and discovery.
We have also been working on taking care of our planet and this year added a large rotating compost bin to collect classroom waste and added a rain chain to collect water for our rain barrel.
Being outside is more critical than ever. We are proud that throughout this pandemic, our Nature Explore Classroom hs been open to the community during the hours when PIC is closed, giving families in our urban neighborhood the chance to learn and grow in a natural setting.