Peoples Church Preschool
The Outdoor Classroom at Peoples Church Preschool is located in an urban area that has become more urban in the last year. We have watched a number of several story buildings being built up around us on neighboring properties.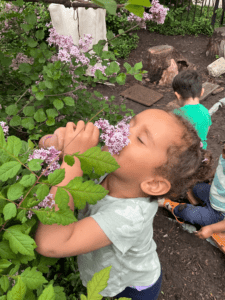 Fortunately, this does not stop us from having regular bird and squirrel wildlife visitors. Our squirrels (brown, grey and black) will crawl up a sunflower and break it off the stem while we watch from two feet away! We were also fortunate this year to have a large hawk capture its prey and stay for almost 40 minutes while groups of children were able to see it from fairly close. Though it is not certified, we have also been using another area on our property with a very large oak tree to provide us with all the acorns and caps we desire as well as numerous plantings that provide a plethora of fall cast-offs for examination. The outdoor classroom is truly a favorite for children, their families and the teachers. We always look forward to what the next year will bring. Our program is unique because we are in an urban environment. That makes us appreciate even more every time we have a Monarch caterpillar on our milkweeds or if we have a praying mantis sighting.