Peoples Church Preschool
Our program is unique because we are in an urban environment. That makes us appreciate even more every time we have a Monarch caterpillar on our milkweeds or if we have a praying mantis sighting.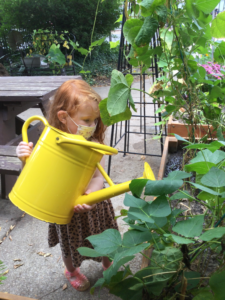 We are fortunate to have large oak trees on our property for acorns as well as pine cones galore. Every year we work to incorporate more nature into the Outdoor Classroom
We were able to raise over $5,000 for our Outdoor Classroom makeover this spring. This effort included not only river rock and planting donations, but financial donations and many hours of volunteer time to reach our goals. Projects we completed include digging out and relocating a marimba (that had been anchored with WAY too much concrete) so that we could create a new entrance; adding four new garden boxes for carrots, peas, beans and cucumbers; planting our wall of sunflowers, creating and installing a new wooden ball run; putting an addition in the mud kitchen for loose parts storage, adding a new storage shed for Infant and Toddler loose parts, repainting our existing storage shed; and lots of new annuals and perennials – all with a wild flower look to them.
Our goal for next spring is to add a new water feature.