Perfect Praise Learning Center
After 4 months of being closed due to COVID-19, I would like to thank all of the parents who have volunteered to help us keep our Nature Explore Outside Classroom and Nature Explore Garden up to par. "Without the dedication and devotion from our staff and community, we would have not been able to have it in the shape it is now" – Angela Hall.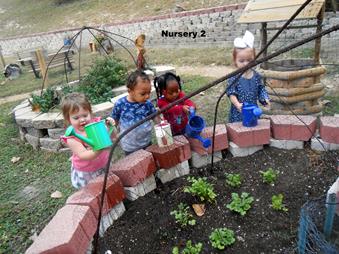 Since our center has been opened for the last three months we have been able to add so many different plants and items to the outside classroom. First, let me start with the garden club. We have added plants like cilantro, green onions, and mint leaves. We have even added lavender, succulents, an aloe vera plant, watermelon seeds, and pumpkin seeds to the mix too.
One of our staff members thought it would be a great idea to add a sandbox in which the children could sit and play to our messy play center. Because she has made such a great suggestion, one of our grandparents has donated and built a sandbox that fit perfectly into the Nature Explore area. Secondly, another staff member thought it was a perfect idea to make a homemade checkerboard as well as a tic tac toe table. Along with that idea, the teacher sought out a fun activity for the students to paint and decorate large smooth rocks to use for the tic tac toe game. We have also had many picnics in our Nature Explore Classroom and had a fun time doing circle time reading with our Pre-K 2 year-olds students. Lastly, I created an event in which I cut open mini pumpkins and had the two-year-olds pick up the seeds and transfer them to their bowl to test their fine motor skills.
The children enjoy every moment and every chance to go out into our Nature Explore Classroom. They use the skills that they learn inside from doing their lessons. We observe and see them boost their cognitive skills, physical movement, boost their vocabulary skills by being able to name what they see, and seeing them use their exploration skills to navigate the Nature Explore area.
In conclusion, Nature Explore has always provided us at Perfect Praise Learning Center a chance to grow to learn, to see our hard work and dedication blossom into a beautiful creation. Prayer has kept this center moving at the speed it has gone. There has not been a dull moment where we have not used our nature garden to attend meetings, to eat our private lunches, to just get out and let our hair down to get fresh air. Nature is beautiful however, what you put into it is what makes it feel as though you can continue to live in it and feel at peace. Here at Perfect Praise, we always strive to create a safe place for our students not only on the inside but outside as well. After all, play is the most important factor when it comes to learning, and what better way to to learn than to play in an area that has all the necessities and objects to be utilized for our student's growth.