Petals in the Pines
Families were looking for outdoor activities in 2020 with so many events canceled and places closed due to the pandemic. We were glad to offer something fun, inspirational and healing with some of our outdoor programs still in place.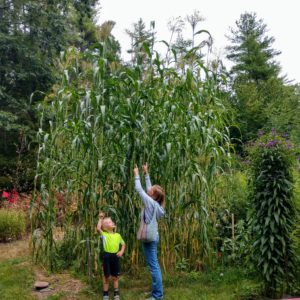 We did 3 Tale Trails between June and October, changing the story every 2 months. This gave families the opportunity to come back for a new story on different trails. We have over a mile of walking trails so they were not limited to the Tale Trail and could venture off to our stream and other locations to explore. We added a water feature to our outdoor classroom by using an old stock tank and added some aquatic plants to it. It didn't take long for a bullfrog to find it and the kids liked looking for him. Sometimes he hid under the rocks, but sometimes he was right up top for them to see!
We also have a pick-your-own flower patch and that was a fun activity for families who came to pick. Our expanding wildflower meadow was also a popular destination to watch the bees, butterflies and other pollinators in action. Our August/September Tale Trail was a book about pollinators and the trail took the readers right through the meadow.
We got a bit creative with our outreach as more people were finding things to participate in via Zoom or the computer. We collaborated with the children's librarian at our Town Library and recorded the reading of the Tale of Peter Rabbit with our Peter Rabbit vegetable garden as the backdrop. Our librarian played the role of Beatrix Potter and my husband was Mr. McGregor. It became one of the library's most watched videos! It can be viewed at here
Our annual Monarch Festival became a virtual event this year. We did 4 live Facebook events throughout the day and covered different topics like the monarch life cycle, how to grow milkweed and the monarch migration. It was very interactive as we were able to take questions from viewers and answer them during the live portion. We recorded each segment and added them to our website for later viewing. We also enlisted the help of 3 children's book authors who recorded readings of their books about monarchs. Their readings appear on our website along with a list of resources for activities to do with children. Members of our 4H club who normally volunteer at the event created Monarch Life Cycle Bracelet kits. They recorded a video with instructions on how to assemble them and the kits were available for sale on our farm stand. We also made milkweed seed packets and instructions available for free to anyone interested in growing it.