Pinnacle Presbyterian Preschool
This year, nature has been a main focus of our staff development in relation to mark making materials. We began our school year with material experiences during in-service training.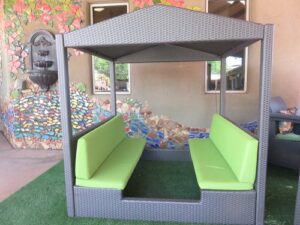 Throughout the year we have continued these focused meetings, sometimes bringing our materials outside into nature and other times bringing the outdoors in. These trainings have impacted our work with our students as well and we have noticed a strong emphasis on their connection to their desert context this year.
Many additions to our Outdoor Classroom have encouraged "meeting places" for children, families, and educators to gather. This year we introduced Family Atelier Days in the Outdoor Classroom to encourage families to work alongside their children in nature with mark making materials.