The Nature Explore Classroom at
Poe Cooperative Nursery School
Welcome to Poe Cooperative Nursery School (Poe Co). Poe Co is a parent coop that has been serving children in the city of Houston for over 42 years. Our private, non-profit nursery school shares space with Edgar Allan Poe Elementary School, a Houston public school.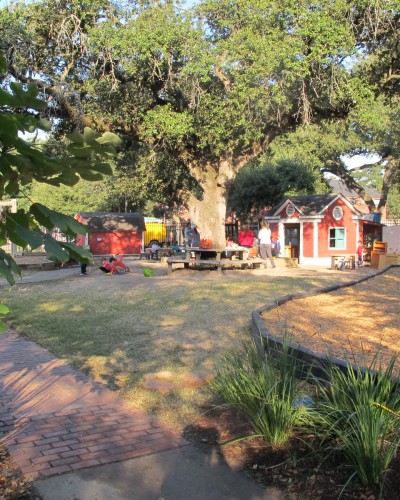 Poe Co is located in a historic neighborhood near the Museum District, between U.S. Highway 59 and Rice University. We are fortunate to have many area parks, arboretums and the Buffalo Bayou where children can experience green space and plants and animals native to south Texas. Although a visit with nature is important we have learned through research that children benefit from daily hands-on experiences with their natural world. These experiences give children a better understanding of the world and of each other and so our journey as an outdoor Nature Explore Classroom begins.
The nursery school has always valued and supported children's outdoor play. Rain boots and a change of clothes are necessities at Poe Co. The significance of a quality, well-planned outdoor learning environment began to take on greater importance in the year 2000. During that spring, Poe Co and Poe Elementary parents, grandparents and alumni raised over $25,000 to completely redevelop the current elementary playground. This new playground with additional climbing structures, biking paths and music and theatrical areas was inspired by the teachers and built by parents. We continue our journey.
During the year 2012 again through the vision and hard work of current Poe Co families, a plan to replace the existing chain link fence with a new wrought iron fence and entryway gate was set in motion. Fundraising efforts of current and previous Poe Co families with the addition of community support brought the fence to fruition. Following the fence installation the school hired a certified playground inspector to review and make suggestions for repairs and or changes. A specialist at the Arboretum inspected the drainage situation and observations of the children at play were completed by the teachers and parents. We wanted to make sure the redesign was safe and that we had created areas that were appropriate to the children's exploration and play.
The Houston heat and humidity was also a significant factor in the design of the outdoor classroom. Heat tolerant plants and areas that offered shade were utilized. As the outdoor classroom evolved, the teachers became more intentional about the activities and natural elements that were placed at the outdoor block building area and the art and water tables.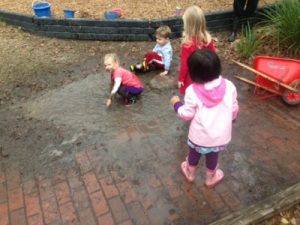 The world is mud-lucious and puddle-wonderful
E.E. Cummins

Address
5100 Hazard Street
Houston, TX  77098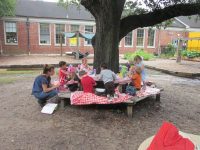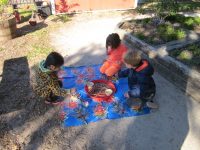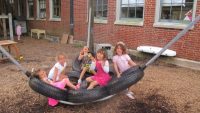 With the help of our Poe Co families, teachers and the children, Poe Co now has an Outdoor Nature Explore Classroom which includes:
• relocated recycled wood garden beds in sunnier location
• a raised garden bed along the back fence to grow pole beans
• a dwarf seedless orange tree and two apple trees
• a certified butterfly garden
• a cedar wood pergola over the existing rock storytelling area, constructed by a parent
• newly constructed table wraps around the 40 plus year old oak tree in the middle of the outdoor space – it is used for writing, drawing and sharing meals together
• a bamboo teepee for the children that is now covered in vines was built as an Eagle Scout project
• a wooden music stage (Eagle Scout project) that holds a xylophone (donated by a Poe Co family in memory of their mother and grandmother ) and drums
• tables made of recyclable products for the art table and mud kitchen
• boulders for climbing (donated by a family)
• Chinese parasol trees, rosemary, rocks and ferns that offer shade and interest
• a large composter that provides compost for our gardens (the children empty their leftover vegetable and fruit peels in classroom compost buckets and add to it at the end of the day)
• designated messy area (mud kitchen) and building area
• "Out Last" water and exploration table
• a greater sense of wonder