Pollywogs Nature Playschool
The Outdoor Classroom was transformed this past spring to incorporate more of our native Sassafras and Scrub Oak woodland perimeter. We now have a mini forest as part of the space.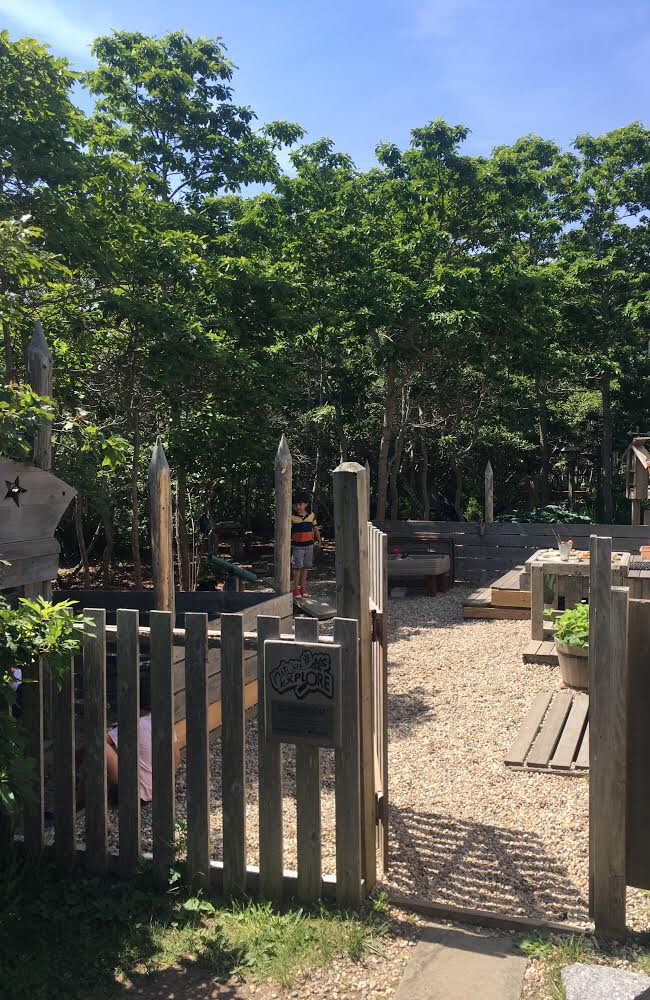 We also took down the fencing that originally separated the Garden Area from the rest of the Outdoor Classroom, more than doubling the space. I'd like to thank my talented, dedicated and hardworking husband Jeff for helping to recreate the space and for the on-going maintenance of the Outdoor Classroom. Parents and others have commented that the Outdoor Classroom space is quite magical and feels like a life-size Fairy Garden.
We now have more trees for climbing and for fort/den building. We moved the Mud Kitchen Area to the far end of the Garden Area which now includes a sweet little stump chair set and table created by my husband. We also added more wood stumps throughout the space so that every child can find a sit spot for alone time when wanted or needed. The majority of the tree stumps were donated from parent and tree expert Jim Cook! Thank you, Jim!
In addition, my husband gave me a rain barrel for Mother's Day and he also built a platform and secured it for safety. I am so happy to have a sustainable water supply source for the Outdoor Classroom and to teach the children about harvesting rainwater as a sustainable practice to conserve precious water. We can now water all of our plants with rainwater, use it for the mud kitchen and other activities that involve playing with water. We have always been mindful of how we use water and now we are learning first hand how to harvest it and reuse it, adding to our eco-friendly practices.
At our Graduation and End of the Year Celebration, the current school families informed me that they purchased a large jumping rock that will be engraved with the new school logo. I am beyond thrilled to incorporate this wonderful addition to our Outdoor Classroom when it is ready and I would like to thank all of the families from the 2019 Class! Thank you Barber Family, Beni family, the Brannigan family, the Cook family, the Davis family, the Myers family, the Mitchell family, the Pearson family and the Williams family. Your gift will be cherished and used for the lifetime of our little school. I am so grateful for the families enrolled in all of my nature immersive programs and for their commitment to this type of education for their child(ren).
In addition to expanding and improving the Outdoor Classroom, I have continued to broaden my nature-based practice. Last August I had the honor and privilege of training under Erin Kenny at Cedarsong Nature School, the First Forest Kindergarten in the US. Meeting Erin Kenny before she passed away was such a blessing. This past Autumn I developed an afternoon Forest School program. I am honored to help Erin's legacy live on every day in my nature immersive programs.
This past May I presented a teacher workshop at the Boston Nature Center for ERAFANS (Eastern Region Association For Forest And Nature Schools), helping others to create their own nature-based program in a home-based setting. My hope is to help others create NE certified Outdoor Classrooms and to promote the field of nature-based education connecting children to the natural world. Passing on knowledge to others to enhance and enrich the lives of children with the hopes of creating a kinder and gentler world for all is the work that I always hoped to do.