Pollywogs Nature Playschool
What a fantastic year we had in times of uncertainty. Our outdoor program flourished, and our children thrived.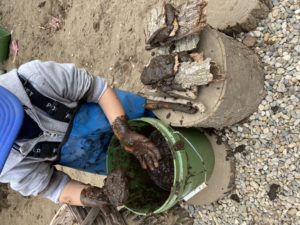 The year ended with our first family gathering for the entire school year. We came together to celebrate finishing a fantastic school year during a pandemic! We had much to celebrate completing a school year with not one COVID case, a year that offered normalcy in an entirely outdoor setting where children became friends, became resilient, worked on kindness, and how we treat one another and Mother Earth. We learned a lot, grew a lot, and deepened connections all around.
Our Forest Kindergarten model allowed children the freedom to grow, develop and thrive in the best of ways. In addition, having the right gear for all weather every day in each season to ensure safety and comfort made all the difference! A big thank you to the families of 2020/21 for your commitment, dedication, trust, and support!
Our NE Outdoor Classroom was our natural sanctuary that provided a place for us to gather, eat, grow, and work/play safely. Having an existing Outdoor Classroom that changes and evolves yearly based on the current children and their interests has been priceless, along with extensive training and over a decade of experience working in the nature-based niche. This year, some of the changes were opening the sandbox area, removing the wooden house and fencing that contained the area.
The children and I expanded the space and transitioned it into a sand/dirt digging area surrounded by tree stumps for mud kitchen creations and play. We also moved the mud kitchen up to the dirt digging area. The garden area was fenced in to help deter the deer that frequent the property. We also added a sweet little outdoor bathroom custom built by my husband. I am beyond grateful for all the building and upkeep my husband has done since our NE Outdoor Classroom inception.
Professionally, I continue to serve on the Board of Directors for ERAFANS. In that capacity, I helped co-facilitate a webinar for people wanting to transition from an existing program or start a new nature-based program or simply looking to be outdoors more due to the pandemic. One of the topics covered was Outdoor Classrooms. I presented on Outdoor Classrooms & gave an overview of how to create a Nature Explore OC and showcased mine as an example. In addition, my little school inspired other local school programs to offer more outdoor time regardless of the weather.
Although the pandemic appears to be nearing its end, I believe the movement to get children outside more will continue. It is the birthright of all children to be able to develop a connection to the natural world. We are part of nature. We are nature. We must continue to advocate for all children everywhere to have access to the natural world. It is a joy and privilege to pass on my love and passion for the children and nature movement.
Thank you, Rhonda, for all you have done for these kids this year. What you do for these kids is priceless and the smiles on their face today and every day is all because of you.
2020/21 PNP parent
Pollywogs Nature Playschool was a dream come true for us Ms. Rhonda is so wonderful "R" will miss his little school!! 
2020 was such a hard year but for these kids Ms. Rhonda made them feel like nature was their bubble and fun was all that mattered!
2020/21 PNP parent