The Nature Explore Classroom at
Precious Moments Nature Preschool
My journey to start my outdoor classroom began one day after we were exploring in the forest.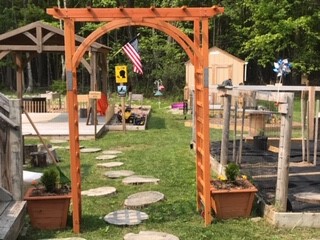 As we were leaving the forest I walked back into our yard and realized the endless possibilities that were waiting. That's when I knew I wanted to spend our days outside learning in the natural world that was so inviting. We had always listened to the beautiful sounds of nature, listening to woodpeckers, birds chirping, and just the sweetest sounds of the wind blowing in the trees. This time it felt different, the sounds were more clear.
That's when I began my research on Nature Classrooms and discovered the Nature Explore Program. I researched all the areas I would need to start our design for our Nature Classroom.
I was so excited to tell my families about my ideas for our Nature Classroom. They were so happy to hear that their children would be learning in nature. It was going to take some time, but with the help of my handyman husband and local donations from farms we began our Nature Classroom.
Creating and planting a garden and building a mud kitchen were first on the list and what the kids were most excited about! My husband built an art easel while I created a nature weaving loom. We built a gathering area and a climbing area with balance beam and stepping stumps. My husband cut tree slices for the entryway, tree cookies to add to our mud kitchen, and tree blocks for building. I recycled anything that was plastic and replaced those items with natural materials.
The parents were kept informed on our process and were encouraged tp be involved.
I would like to thank my very supportive husband, for all his support and all the hours he spent creating and building our Nature Classroom. I want to thank my children for all their help, support, and patience. My family was a huge support in the building process of our Nature Classroom!

Address
123 Ashswamp Road
Scarborough, ME  04074