The Nature Explore Classroom at
Purple Tree Kids
My desire to offer an outdoor classroom stems from my childhood growing up in a very rural area. Outside of school, I spent nearly all of my waking hours outside.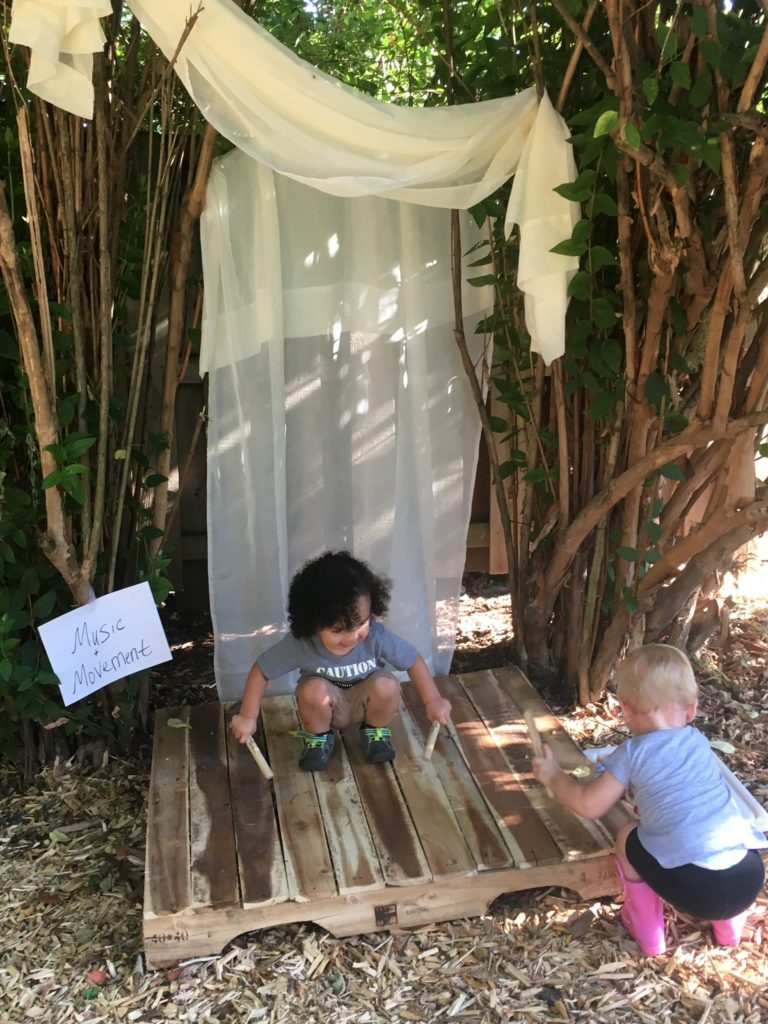 This included activities such as climbing trees, exploring creeks and woods, gardening and caring for animals. I feel it is important to give children the freedom to explore and take risks.
The outdoor classroom came about from my personal love of nature and being outdoors. We have a large sandbox where the children have access to shovels and containers of all sizes. They frequently use sticks in this are to build as well. This area includes items for messy play including galvanized steel pitchers and buckets as well as galvanized containers for water play. Near the sandbox, we have a fallen tree trunk which naturally came to be in that space and the kids use it daily for climbing and imaginative play.
I have recently added a dry creekbed of sorts where we use tree cookies and natural materials such as sticks and rocks for building. This area also includes trucks and tractors. We do make use of traditional playground items such as a playset and a climbing dome. The dome is a physical and cognitive challenge for the kids and has proven to be a favorite.
Our music area includes a stage set back in the trees and instruments. The art area has a wall for painting and table for other art projects using natural materials. We have several small gardens which have flowers that attract bees and butterflies as well as herbs that we use in our cooking. There are walkthrough paths through the gardens. We have a large green space where we like to play games and kick balls. We spend the majority of our day outside. We come in dirty and love every minute!

Address
Springfield, IL  62704