Reeths-Puffer Pennsylvania Kindergarten
Our goal at Reeths-Puffer Pennsylvania Elementary is to teach our youngest students to be stewards of the environment and of nature. To care for, protect, watch over and help our Earth flourish.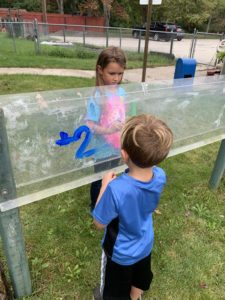 Our Nature Explore classroom has helped us to expand this mission. We are so proud of the areas we have added this year, including an action area, water area, and messy materials area.
Our students find new and exciting ways to interact with nature and to use the natural materials provided in the Outdoor Classroom to be imaginative and play in a safe and natural manner.  We love watching the children as they "serve" food at their "Farmer's Market" area, stir up a treat at the outdoor kitchen, paint a masterpiece on the outdoor paint area, jump from log to log to log like a little frog, rearrange stump seating areas to have a fun conversation with their friends, win endless matches of tic tac toe where they are the stone and their friend is the stick, bring compost from home to make new dirt in our compost pile, harvest fresh food from our gardens and hoop house, roll and stack tires to make new creations and all the endless other ways they are engaged whole heartedly in our Nature Explore Classroom.