Reeths-Puffer Pennsylvania Kindergarten
As you enter the Pennsylvania campus, it is obvious from the entrance that nature is the focus for all who enter and learn here.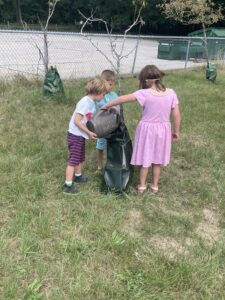 Walking past the newly planted orchard, you will find Kinders filling tree bags with hoses to grow the new saplings. Continuing on in, our hoophouse is filled with lettuce, vegetables and flowers that the kids plant, weed and care for during three seasons. As you see kids running through the huge field looking for ants, taking samples of dirt and flying around with butterfly wings, you will enter the space where most of the nature learning takes place. Kids are sitting at picnic tables, reading books, finishing up their table work and having conversations. Looking over the whole space, you will find Kinders playing games with natural materials, such as rocks and sticks, other kiddos painting with mud and lots of digging and exploring going on in the sandpit.
Students will want to show you our chickens, walk you through our Community garden and show you our crops and want you to explore the compost pile, full of our lunch scraps and organic material they have gathered. As your make your way back around, you will see kids exploring water features, drawing pictures on the sidewalk and looking for caterpillar eggs on the milkweed. Every aspect of the outdoor areas inspire nature themed learning and exploring. This encompasses the epitome of Nature Explore culture.