Riverwalk: A Family Park
We are the only Nature Center in Rockledge, and have become a 'hot spot' for local families to bring their children since the Classroom was built. The site has become a popular meet-up site for homeschool families.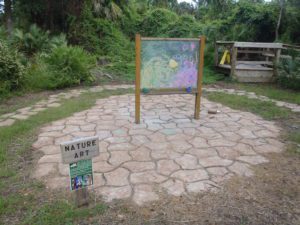 We are seeking small grants to replace rusty tools, add a gardening table, and a small, much-needed storage shed. We receive several 5-star comments a month specifically about the Nature Play area. We will continue to partner with other entities to help enhance and add to the Classroom in the next fiscal year.
We also received certification as a "Lagoon Friendly Lawn" by Keep Brevard Beautiful. The sign was added to the Nature Play area main lawn and encourages Park visitors to also make their yards more Florida friendly and sustainable for our local ecosystem.