The Nature Explore Classroom at
Roots + Wings Discovery Preschool
When I began the journey of opening the first discovery-focused and nature-inspired preschool in the area, just 7 short months ago, I knew that I, eventually, wanted a Nature Explore Certified Outdoor Classroom. It felt like a far-reaching goal at the time, but Roots + Wings Discovery Preschool will now be 1 of only 7 programs in the state of Michigan to hold the national recognition of Nature Explore Certified Outdoor Classrooms! To say I am extremely proud of this accomplishment is a huge understatement!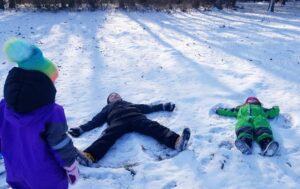 My ultimate goal for Roots + Wings Discovery Preschool was to create a program where children can become their "whole selves". My outdoor classroom reaches this goal by providing children with a safe, welcoming space to explore and discover and also includes loose parts, open-ended materials, and provocations for children to dig deeper and truly become guides in their own learning.
Roots + Wings Discovery Preschool Nature Explore Certified Outdoor Classroom includes a Welcome area, Gather area, Small World Play area, Natural Building area, Nature Art area, Nature Trails and so much more! It is truly a one-of-a-kind space where children are able to make their own choices and have access to natural learning material in a classroom without 4 walls.
Of course, there were barriers to creating our outdoor classroom. You just need to start with a dream, visualize your end goal, know your budget and have the ability to really think "outside the box". I am very proud to say that so many of the materials in my outdoor classroom were made from repurposed materials. The time, effort, and heart put into making everything for the children in my program makes it even more special to me!
I am extremely thankful to the parents who took a chance on my new program this school year and registered their children for this unique adventure in preschool! Without all of you, I would not have a program, let alone an outdoor classroom. Another special thank you goes out to my husband, Ben! I could not have created these truly beautiful spaces without his time, effort and the belief he held in my vision for this program. I also could not ask for a better teaching team! My co-teaching guides Ms. Kirstin and Ms. Mary Ruth are amazing! I would also like to thank my partner sponsors who provided my program with Oaki rainsuits! These rainsuits are a wonderful addition and we use them daily.
The greatest gift we can give our children is an educational environment where they can touch everything around them. Children learn best in early childhood through play and developmentally appropriate, hands-on, engaging experiences. I have an endless list of goals for the future of Roots + Wings Discovery Preschool and therefore our Nature Explore Certified Outdoor Classroom will be an ever evolving area and will continue to transform to meet the needs of the whole child. I hope to share so many more amazing things with you next year and in years to come!
Thank you to my preschoolers, preschool parents, program supporters and everyone who has welcomed me in the Chesaning community! There are two lasting things we hope to give our children: one is roots, the other is wings. Adventure awaits.
Ms. Ashley

Address
1629 Brady Road
Chesaning, MI 48616