Ruth Staples
Childhood Development Laboratory
University of Nebraska-Lincoln
We continue to focus on providing children with spaces to explore every part of their day in the outdoor classroom.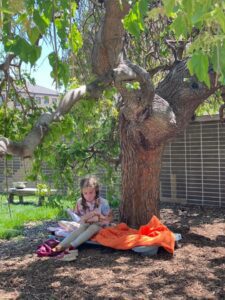 We have added spaces for relaxation and quiet exploration by adding hammocks, shaded areas, and continuing to bring natural materials into the outdoor classroom. Open exploration of natural elements like water and sand has continued to connect children to the outdoor classroom.
As we moved more routines outside, our children began to build relationships within the space, finding their favorite spots and times of the day to relax, explore and discover. Napping in the outdoor classroom is a treasured experience for many of our children. Building and navigating obstacle courses in our forest area, and making meals in the mud kitchen are also experiences that children have loved. Even though learning continued to looked different this year, our connection to our outdoor space only grew stronger and more important in our mission.