Sachem Public Library
Discovery Grove
The children of the Sachem Library have enjoyed another exciting year of open exploration and pretend play in Discovery Grove.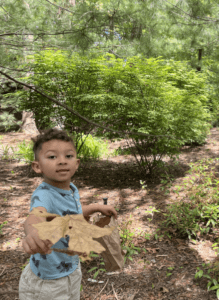 We've had some big updates and additions in the space. Our most exciting addition: a brand-new toddler play area. This smaller area within Discovery Grove offers everything the full classroom does but in miniature. It includes small blocks, a toddler-sized water table, a small mud kitchen, a bridge to climb, a tunnel to crawl through, a small sandbox, dirt digging, and beautiful musical chimes. It's a great place for our smaller patrons to have their own area away from the "big" kids.
We also added a large sandbox, a classroom area with more tables and chairs, a container garden area with wheelchair accessible planters, and two retractable awnings over the classroom and water play/sandbox areas. The shade is much needed in the summer and it is great to be able to have the sun shine on us when we need it in the winter.
We've offered many classes throughout the year for children birth through 5th grade. This year the children built bird houses, fairy houses, and lanterns. They participated in International Mud Day, a water play class, and a bubble class. Families went on scavenger hunts and we fostered a friendship with a local county park for nature walks. We celebrated Earth Day and Arbor Day, hatched and released butterflies, dissected owl pellets, played lawn games, baseball, and ran obstacle courses. We also made seed bombs and planted a flower garden to support our pollinators. We are looking forward to another year filled with creative open play and adventure in Discovery Grove.