Sachem Public Library
Discovery Grove
Discovery Grove continues to be highly used by our community. The space is open all year, offering 2,600 hours of availability for our patrons. It is open for free-play seven days a week, rain or shine. In addition to open play, we offer dozens of classes for children from birth to fifth grade and their families.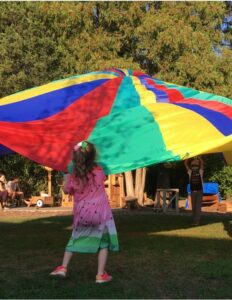 We participated in International Mud Day, celebrated the XXIV Winter Olympics with a full week of activities, school-age children built fairy houses, and hundreds of children from the school district enjoyed a field trip to Discovery Grove. To help pollinate the library's community garden we hatched and released painted lady butterflies. We distributed kits for children to use while in Discovery Grove. The kits include paints to use on our art panels, a backpack with binoculars, compass, and bug catcher/magnifier, and an owl pellet dissection kit for older children.
This year we will continue to expand the space when we add a baby and toddler area, a mini-version of everything we offer in the larger space, in a contained area within Discovery Grove. It will include a dirt-digging area, musical chime, water play, and a little garden box with child-safe herbs and flowers.
Like in nature, every day is exciting and different in Discovery Grove and we look forward to future growth as a vital community destination.