Sacred Heart Villa
Clelia's Outdoor Classroom
Sacred Heart Villa is part of a global movement of educators and programs dedicated to creating and sustaining, a beautiful, nature-filled outdoor classroom. First certified in 2016 by Nature Explore we have sustained and maintained our outdoor classroom space.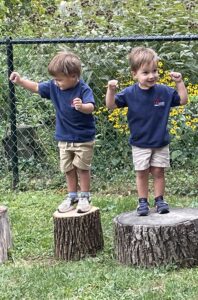 Here at the Villa, we are fortunate to have a spacious front yard, as well as the back playground spaces which all comprise our outdoor classroom. The outdoor classroom includes a dinosaur garden, a messy play area, musical panels, tree stumps for climbing, an outdoor reading area for staff and children, art easels, garden areas for growing fruits and vegetables, play equipment, and picnic tables for drawing and writing.
The children have observed bees, butterflies, moths, finches, and hummingbirds feeding from our native flowering plants. The children get so excited to see these creatures up close. One kindergarten boy said, "I saw a moth on a flower so close up with my eyes! I could see it had dots on its wings and fuzz on its body! I never saw one so close before!." The staff and administration hope these activities in the outdoors will encourage children to appreciate the gifts of the earth and the beauty of God's creation.