Saddleback Children's Center
At Saddleback Children's Center, the Outdoor Classroom is surrounded by the beautiful Saddleback mountains and also backs into O'Neill Regional Park.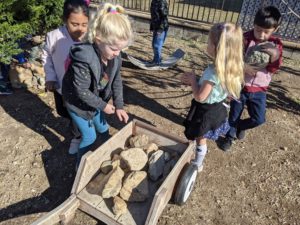 As soon as you walk onto campus you can see the love for nature and God's creations all around you. The outdoor classroom was expanded this year due to covid and 4 more outdoor spaces were created to allow teachers to utilize the outdoor space as much as possible. We turned an old back unused parking lot into a beautiful outdoor space for the children to enjoy. We gathered rocks to make a bike path and painted a mural to help enhance the space. We hope to have a fundraiser to raise money for a permanent fence to go around the new outdoor classroom. It is neat to watch the children climb trees and enjoy all the new outdoor spaces.