Saddleback Children's Center
Saddleback Children's Center is actively engaged in incorporating stewardship throughout our curriculum but more importantly in our outdoor classroom environs.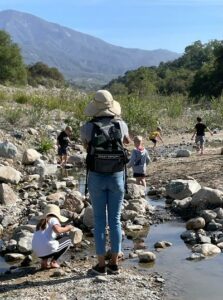 We are striving to instill a lifelong love of our natural world as well as the knowledge of how to protect it. To achieve this goal we are promoting the following tenets:
-Create opportunities for children to have experiences with nature by taking a walk in nature and having surprise contact with local species in order for children to discover species that
share their home.
-Allow children time in the natural world. It might take the form of building a fort from found objects or collecting natural objects like shells, rocks, or acorns.
-Guide children to understand the area they live in: for example, what plants are native or non-native, what animals share their home with them, and what natural feaures are in our area such as foothills, creeks, oak and sycamore trees, cacti and more.
On campus, our teachers and children are actively engaged in stewardship in the care of our animals. On a rotating schedule, classrooms are responsible for ensuring daily that the animals under their care (chickens, rabbits, finch) have fresh water and food. Recently our chickens, Peanut Butter and Honey have started laying eggs so a new layer of responsibilty has been added…collecting eggs and packing them up to share with our families.