The Nature Explore Classroom at
Saint Paul's Childhood Center
St. Paul's Childhood Center is a non-profit child development center serving children six weeks to twelve years.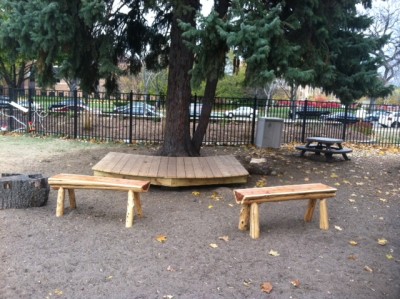 Sponsored by St. Paul's United Church of Christ, this center provides an engaging environment for early learning that fosters physical, cognitive, social/emotional development, as well as promotes a positive sense of individuality through a community-inclusive, child-interactive, arts-infused emergent curriculum.
A local landscape architect donated time to design the playground, incorporating ideas from the staff and children. The Playground Committee and family volunteers were instrumental in developing the space. Planting and building days were organized through the school to create and complete the classroom. A local artist crafted signs to reflect the artistic sense in the community. Each of the delineated activity areas is labeled with a name and visual clue to empower children to make their own plans to engage in different kinds of activities.
A variety of surfaces, including mulch, cement, grass, pea gravel and sand and barriers of stepping stones and low plantings were used to clearly lay out the different areas. Larger items, such as the climber have been placed on the perimeter of the playground. Loose play materials are added that reflect nature and are made of wood. Shovels, rakes, buckets, construction trucks and sifters have been included in the Digging Area. A raised garden bed will be utilized as another Digging Area with items being changed out monthly.
Many plants and trees have been chosen to attract birds and butterflies and to add color, texture and aroma to the classroom. These include low maintenance and durable varieties, with many native to the region. Rain barrels have been installed to allow children the opportunity to easily water the gardens. The nature trail beckons children to explore the plantings on a daily basis. Plants were chosen that are native to the region.
Family volunteers assisted on the Playground Committee and during planting and building days. St. Paul's Childhood Center plans outdoor activities on a daily basis as part of their curriculum and also incorporates the Nature Explore Families' Club into their program.
St. Paul's would like to thank the Grotto Foundation for helping fund the playground transformation.


see most recent
Address
900 Summit Avenue
St. Paul, MN 55105
Classroom website