Salt Lake Community College
Eccles Early Childhood Development
Lab School
Our Nature classroom continues to be a favorite place on campus for parents, staff, children and guests. The nature classrooms inspires teachers and students to implement lesson plans that incorporate the space, and the wide variety of plants.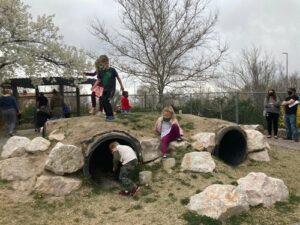 One student combined technology and nature with a QR code scavenger hunt. At each location, the child & parent could see the budding plant and with the QR code they were able to see a full grown version of the plant and a few unique facts about each. This activity was a highlight of our family event hosted in the spring. It encouraged parent/child communication and curiosity about the plants, flowers and bushes growing around them. While on a tour, a prospective parent, stated, "My child needs to experience this." after stepping onto the nature playground.