The Nature Explore Classroom at
Sarah's Littles Adventures In Playschool
Sarah's Littles Adventures in Playschool is an in-home nature-play-based preschool. We are nestled on a 3/4 acre lot on the edge of the city in the Village of Waukesha. It is our mission to provide children with an authentic childhood and we do this through the two programs we offer: Playschool and Summer Adventures.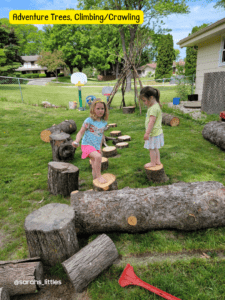 Our Playschool program runs September through May and is designed for six children between the ages of two and six years old. This program includes weekly trips to the forest, adventure rides on our bike, and a lot of free time in our outdoor classroom. Our Summer Adventures program runs from June through August and is designed for eight children between the ages of three and nine years old. This program is an outdoor program that includes a lot of free play in our outdoor classroom, nature hikes, and visits from our local nature center.
Sarah's Littles journey to becoming Nature Explore certified and Satellite accredited included many ups and downs. While Ms. Sarah has been providing high quality care since 2010, she recently became a licensed family childcare program in February of 2020. With new resources, Ms. Sarah was introduced to what the industry perceived as high quality and it went against everything, she believed in. Knowing what was best for the children in her care, she continued to research and found Nature Explore Certification.
Playing outside has always been important to Sarah's Littles programming, but after attending the class "Using Your Outdoor Classroom" we knew how to become intentional with our space. We moved from a general backyard play space to an intentional outdoor learning environment by adding a "Construction Site", "Creation Station", "Flower Garden", "Adventure Trees", and "The Tent" areas. We also added self-service water stations to our "Imagination Station". Next year we are looking to add a fruit and vegetable garden and hopefully some chickens.
We are very proud to offer an alternative to traditional preschool and be one of the only nature-play based in-home programs in our area. Furthermore, it is our desire to make sure all children have equal access to quality outdoor gear; therefore, we provide all this gear for all enrolled children to use while they are at school.
"I love that my girls are allowed to get dirty. I also love the amount of time they get to spend outside, in all weather, with freedom to have unstructured free play and to use their creativity. I also love that my girls are given the opportunity to problem solve and build conflict resolution skills." ~Heather N.
"My children have gone from not wanting to get dirty and being afraid of bugs to happily digging in the mud with bare feet and worm hunting, all without pressure or forced participation." ~Lindsey G.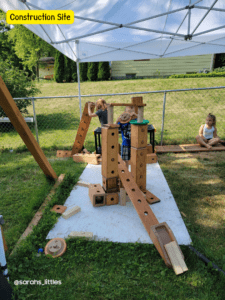 Address
Waukesha, WI