Scarbrough Center on the campus of
Southeast Technical College
The Scarbrough Center children spent an abundance of time in the outdoor classroom in 2021. Some of the highlights this year was growing pumpkins and Mud Day!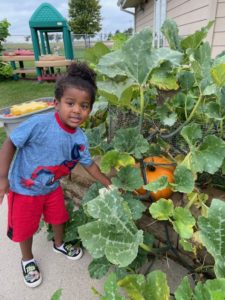 We continue to maintain our outdoor classroom year after year as things grow and change, so do the activities and learning in the classroom.
We had great success growing pumpkins this year and as the vines overtook the garden area, the children explored and learned more about pumpkins. We started them from seed and watched them pop up as a small plant and when the pumpkins started to form the children got more and more excited about what was to come. We finished our pumpkin growing by picking them off the vine and then finally cleaning them out and carving them for the Fall.
The vines around our sandbox have almost totally enclosed the area with shade and our growing tent for children to crawl into was larger than ever. The children are able to explore water, sand, loose parts, books, musical instruments, blocks, the garden area and all the trees and perennials around the playground. In the spring we painted birdhouses to add to the playground and we added some more perennials around the playground for the children to investigate.