Schibel Teaching Farm and Childcare Center

While we have not made significant changes to our Nature Explore Classroom, we have sustained it by constant up keep, always refreshing the space.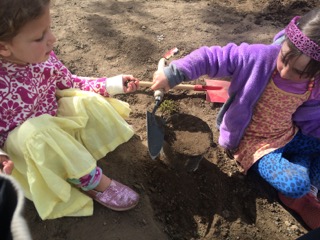 We have added on another outdoor Art Area to accommodate the younger children, ages 1-2. In the Climbing Area we have added smaller wooden rounds and made them different heights. In the Messy Materials Area we continue to use sheets to make forts in the trees and the children are often times imagining they are gnomes. We love having our outdoor classroom space.
It is amazing watching the children blossom and grow in the outdoors.
Samantha Warner, Director