The Nature Explore Classroom at
Schibel Teaching Farm and Childcare Center
The Nature Explore Classroom at Schibel Teaching Farm and Childcare Center in Bend, OR is the first certified Nature Explore Classroom in Oregon.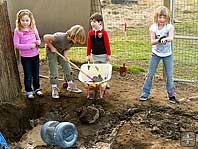 The center is located next to an equestrian center and farm pasture. Each area of the outdoor classroom has been designed to fit into the beauty and quality of the surrounding 6 acre farm.
Many unique and wonderful adventures await children as they begin their day at Schibel. Children are allowed to interact with chickens and many other types of farm animals while helping with their care. They are also allowed to dig in dirt, play with straw, plant gardens and engage in many outdoor experiences specifically designed to connect them with nature on a daily basis. In addition to childcare, Schibel also provides 4-H After-school and Summer Camp programs.
While spending quality, unstructured time outdoors, children are developing observation and social skills in addition to science, math, art, music and movement, visual-spatial and language and literacy skills.
All areas needed for certification are included around the outside of the main indoor facility. Care has been taken to ensure that there are no obstacles within the classroom that may limit visibility. Signs, stumps, branches and wooden toys are made from regional woods with landscaping of native plants.
Family involvement and awareness have been achieved through flyers, e-mails, web site and an open house. Goals of Schibel Teaching Farm include encouraging children to maintain active lifestyles, develop healthy eating and nutrition, become good stewards of the environment, experience nature and the sciences, and to help develop character. More information can be found on Schibel Teaching Farm and Childcare Center's website.

Address
64225 Schibel Road
Bend, OR 97701
Classroom website
Facebook