The Nature Explore Classroom at
Scott County Family Y-Newcomb Early Learning Center
We began our journey of creating a Nature Explore playground in May 2015.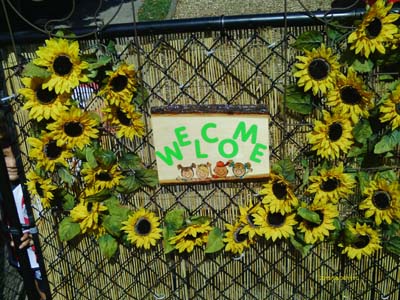 We knew it was going to take a lot of hard work and creativity, but we were up for the challenge. The existing playground only had a climbing structure that was designed for children ages 3-5 and was not appropriate for all of the children enrolled in the program.  In addition, the fall surface area was not sufficient for the size of the structure.  We discussed, planned, researched, and agreed upon what we wanted for the children and the centers.
Our tree cookie floor was the most challenging part of creating the playground.  We ended up moving it twice due to space, and we used garden edging as the frame, but had to dig a trench to lower it in the ground to be flush with the tree cookies to avoid any tripping hazards. We purchased another climbing structure that is age appropriate for our younger children.
One part of our playground that we feel is unique or special is our center signs.  We created them with the children in mind and used pictures along with the names of the areas.  Another unique area is the music section of the playground; we created a music wall with recycled, repurposed, and reused materials.  We also extended the playground by 10 additional feet.  The parents have commented on how they like that the fence was expanded to give the children a grassy area. They also feel that the children have so much more to do and explore now and that their children are still learning when they're outdoors.
We finished the playground on August 7, 2015 and held an Open House for all the parents, children, and community on August 19, 2015. We are all very excited to have been part of creating such an enjoyable learning environment for the children in our care.
Patti Broadwater-Jones, Director

Address
2619 N. Division St.
Davenport, IA  52804
Classroom Website