The Nature Explore Classroom at
Scott County Family YMCA
Palmer Learning Center
With knowledge gained from the Nature Explore website, the Learning With Nature Idea Book and Nature Explore workshops, Scott County Family Y-Palmer Learning Center was able to make some significant changes to their outdoor play area.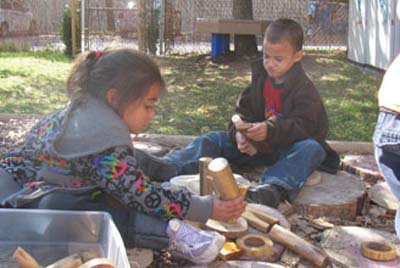 With a commitment to nurturing the potential of children, promoting healthy living and fostering a sense of social responsibility, the Nature Explore program was a good fit to accomplish these goals. The staff team discussed the importance of outdoor play and a need to enhance the playground to create an outdoor classroom. This addition allows children to extend their learning onto the playground.
With several mature trees already on site, the space was easily transformed with a wide variety of play surfaces including mulch, trek decks, grass and concrete. Bamboo fencing softens the look of the areas and adds beauty to the play space. The space was personalized with tree cookies and signs obtained from their own Camp Abe Lincoln. A variety of plantings, such as chocolate mint, lambs ear, grasses, flowers and seasonal items allow children to experience senses up close.
Deb Gustafson, Executive Director of Child Care and Family Services stated, "We would like to recognize Scott County Kids Early Childhood Iowa for their significant contribution to this playground! Without their assistance we would not have been able to accomplish this task!"

Address
724 Harrison Street
Davenport, IA 52803
Classroom website
Facebook