The Nature Explore Classroom at
Severson Dells Nature Center Forest Preserves of Winnebago
"The Grove" officially opened with a great celebration on Saturday, August 9th, 2014.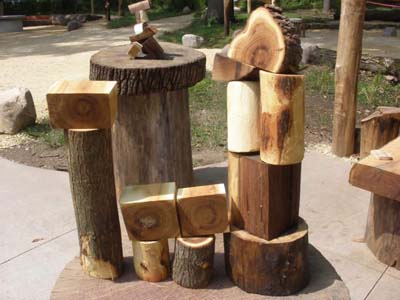 We appreciate all the people that attended and also those people that were part of the program. The Grove is open during regular Forest Preserve hours, sunrise to sundown and there is no entry fee. Nestled among the trees, this unique recreational facility is the only one of its kind in the Rockford area. The Grove was designed with the intent to bring children back to nature using all types of natural materials and a wide range of open-ended play options to help encourage nature exploration that is lacking for many children today.
Unique and beautiful, this area is a great destination spot to draw people of all ages to Severson Dells Forest Preserve and provides a bridge to encourage families out of the house and back into nature. Research shows that spending time outside is of great importance for becoming a well-rounded individual.
We would like to thank our great major donors for their assistance with this project: the Winnebago County Forest Preserve District, Kiwanis Club of Rockford, Reithmeier Family Gift Fund, Dean Alan Olson Foundation, Winnebago County, UTC Aerospace Systems Community Giving Committee and an anonymous donor. The Grove was designed by WCFPD architect Tom Hartley with key on-ground assistance from Joe Doty, Mike Groves, Dave Reithmeier, John Peterson, Eric Bednar, Marach Eucker and many other FP personnel. Artisans Drew Helge, David Stocker, and their friends helped construct this innovative space to foster creative expression and outdoor exploration.
We are very excited about this project and the impact it will have on our community. The Grove is a one of a kind experience designed especially for the forest preserve, and is based on the concepts and criteria of the Nature Explore program.
Don Miller, Director of Nature Education

Address
8786 Montague Road
Rockford, IL 61102
Classroom website