Severson Dells Nature Center
The Grove has become a beloved part of Severson Dells Nature Center. As soon as the weather turns mild in the spring, families start coming out most evenings after work, as well as on the weekends, to make use of this unique nature play area. Returning school children, and our summer campers, always ask if they will have time to spend in the Grove.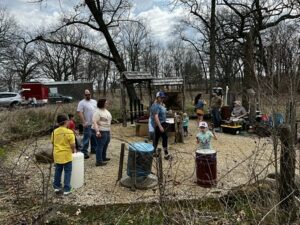 It is our belief that children of all ages need spaces to play where they can use their imaginations, test their limits, and feel safe. A nature-based playscape, like The Grove, provides these experiences. Children build, design, climb, crawl, and play on the various elements as parents/teachers relax nearby, keeping an eye on their charges while at the same time getting some much-needed "Downtime" for themselves. It is a bridge between the standard playground and the forest- a combination of the best elements of both.
One of the things that makes The Grove truly special is the proximity of nature. It is not uncommon for visitors to encounter a mother deer and her fawns, find a snake basking in the sun, or watch bees and butterflies visiting the native flowers that provide landscaping throughout The Grove.