The Nature Explore Classroom at
Sewickley Academy
Our Outdoor Classroom spaces are spread across our campus. The Early Childhood department utilizes a greenspace (the Early Childhood Greenway) that is surrounded by large oak trees, smaller trees that are perfect for climbing, and some spaces that are tucked in among them all.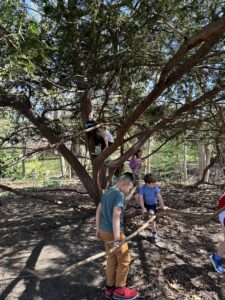 We have added a saucer swing, some additional storage, a mud kitchen, and large loose parts for the students to explore while enjoying the space. Last year we were inspired by the Bald Eagles that were nesting near the city of Pittsburgh. The students built a life-size Bald Eagle nest on the edge of this open space.
We have another part of our space that is between the Early Childhood Greenway and the Early Childhood Playground that is called The Ravine. Up until a few years ago, this space was not utilized – and then some curious students decided to take a look! The Ravine has now become a favorite space, complete with a giant tunnel that has been added for us to crawl on and through. The Ravine is full of knotweed, a fast-growing invasive plant that is difficult to remove. This allows us to invite goats into our space every fall to eat all of the knotweed! We love having the goats on campus and helping us clean up our space, we learn so much when they are here!
Our Middle School Makers Club designed and made all of our wooden signage that helps to delineate the spaces within the classroom. They consulted some teachers about the project, reviewed the Nature Explore requirements, came up with initial designs, accepted feedback, and came up with their final designs. This real-life learning opportunity was so valuable to the students! We are grateful for the cross-collaboration among some of our academic departments.
We have a Secret Garden that is also on campus – we grow vegetables, native plants, and flowers, and have some fruit trees. We have a garden committee made up of teachers, faculty, staff, and students that help to maintain and come up with new ways to improve and add to the space.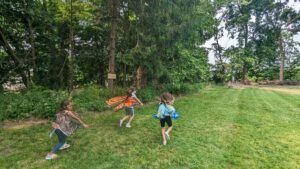 Address
315 Academy Ave.
Sewickley, PA 15143