Sheridan Elementary School
The year from August 2019 to August 2020 has been challenging in a number of ways, and easy in others. The challenge of getting parents and students involved started in Spring 2020 with the restrictions from Covid-19 and continues until this day. We have not had any formal events since Fall 2019. In Fall 2020, however, the PE and Music classes are using the Sheridan Outdoor Classroom as often as the weather and activities permit. Special "shark party" celebrations are also conducted in the OC by Kindergarten teachers. These all give the students a break from the indoor health restrictions, e.g., masks may be taken off as long as social distancing is in place.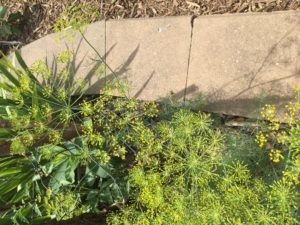 Another challenge was the interrupted handoff of the OC duties to a new set of parent volunteers. An already shaky handoff in Fall 2019 completely fell apart when the pandemic resulted in restricted access to LPS grounds in Spring 2020. I am one of the former chairs but ended up staying on as the current and future chair. A welcome development in our OC maintenance routine came in the form of a group of four volunteers (myself included) taking over the role of large semi-annual college groups. We were not able to use UNL nor College View's volunteer events for cleanup. Instead, the small group met once a week for 2-3 hours from April until October.
We stayed on top of maintenance like we never had before. We grew huge swaths of zinnias, sunflowers, cosmos and dill, and the perennials like milkweed, ironweed, anemone, poppy mallow thrived and bloomed along with them. Weeds were diligently rooted out. The OC has never looked better in terms of its plants. Unfortunately, human visitors to the OC were not encouraged on the grounds until sometime in July. The bees and birds were frequent visitors, however. Monarch and other butterflies were greater in number than ever this fall! There was also a bald eagle spotted flying high above the OC by the PE teacher and his students on 9/24/20.
One sighting of people in the OC that absolutely warmed my heart occurred around 10/3/20, while I was watering tomatoes. A group of about ten female middle schoolers showed up chatting, taking pictures of each other and talking enthusiastically about the Sheridan OC in terms that let me know they were former Sheridan Sharks. They were all being responsible by wearing masks, and they just seemed like little kids in big kid bodies. They took a group photo on the circle of boulders used for sitting. I love that they ended back up at this space they used to know.
Finally, we are applying to get certified as a Nebraska Certified Pollinator Habitat. We began the process by identifying which plants we already have and which we need to add in order to complete our habitat. We plan to submit this next year.