The Nature Explore Classroom at
Sheridan Elementary
Sheridan Elementary School's Nature Explore Classroom is proving to be an effective space that helps children and their families to re-connect with the natural world.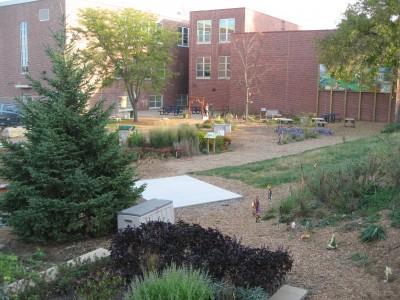 Located in a previously unused area north of the school building, this 17,000 square foot space has 14 discrete areas, ranging in size from 130 to 2,600 square feet. The mix of areas keeps children with a variety of needs and learning styles engaged. A landscape designer from the Nebraska Statewide Arboretum provided a plant plan detailing the number, location and species of plants, shrubs and trees to be located in the classroom. These provide a border, to help delineate each area.
An inspiring mural was created as a focal point for the classroom, depicting children learning and playing in nature during the four seasons. Each area is designed to be open-ended and provide unlimited opportunity to experience the natural world. The space is inviting to many types of groups including school classes from all grade levels and people of all ages from the community.
Staff, Master Gardeners, students, families and volunteers helped plant prairie gardens, pumpkins, sunflowers, a variety of herbs and vegetables and flowers. Teachers are bringing the classroom outside with experiments, projects and a variety of activities from physics and geology to making dyes from herbs.
Principal, Dr. DeAnn Currin stated,"The transformation of a grassy unused space into an Outdoor Classroom for our school community extends our learning beyond the school walls. We see the integration of curriculum content as students work outside. Leadership and service flourish as children and adults think creatively and critically as they work together. We are grateful to the Sheridan families and the Lincoln community for their vision, hard work, and partnership in making our Outdoor Classroom a reality." 

Address
3100 Plymouth Ave.
Lincoln, NE 68502