Silver Spruce Montessori School
As a Certified Nature Explore School, it is a mission of Silver Spruce to bring the benefits of daily nature connections to children's lives. Children have an innate sense of curiosity and wonder. The natural world provides amazing opportunities for learning, creativity and discovery. We believe that when children actively participate and experience their outdoor classroom, they make connections and their learning comes alive.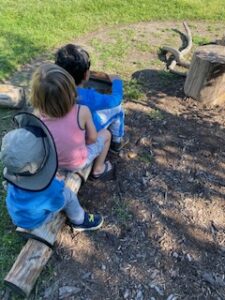 One of the things that make Silver Spruce so special is our extensive vegetable, flower, and butterfly gardens, an onsite greenhouse and farm animals, as well as a specially designed, certified Nature Explore Classroom outdoor area. Another hallmark of our outdoor environment is the amount of open space. Children at Silver Spruce have a plentiful abundance of grass and special nature areas which makes for lots of fun and creative play!
On any given day you'd see children make mud pies, soup, and cupcakes in the muddy kitchen, a group of children sitting and chatting amongst the willow branches, friends digging and driving trucks in the large, spacious sandbox, friends sliding, riding the seesaw, climbing the rope, and working their gross motor muscles on the climbing structure. The grassy knoll is a favorite for friends to lay in the grass, look up into the sky at cloud formations, play soccer and run with their pals. We have secret gardens and flower gardens where caterpillars crawl, butterflies flutter, and grasshoppers bounce!
One of the wonderful aspects of our outdoor environment are our friendly goats, Agatha, Houdini and Mayflower who enjoy being fed various grasses, leaves, and left over veggies from our classroom snacks. These loving and interesting creatures allow children to be a part of their feeding, care, and observation. Our nature space is not something you usually find at most pre-school settings–We are blessed to call this space our own here at Silver Spruce!
Another important aspect of our nature space is its ability to hold a large amount of friendly faces! We have many community events that we celebrate right here in our natural environment, beginning with ice cream socials as school is getting underway! Fall brings the pumpkins for Pumpkin Fest and in Spring we celebrate with an annual egg hunt and gardening day! Without our spacious natural space, these events wouldn't be possible. Bringing our community together is another way we highlight not only our Montessori roots, but the importance of space in a natural play area.