Silver Spruce Montessori School
Our Nature Explore Playground Classroom continues to be the highlight and centerpiece of our school. With our three goats-Mayflower, Houdini, and Aggie and an abundance of mature trees such as flowering pear, wisteria, Japanese Maple, and more–the beauty of the playground captures most everyone's attention.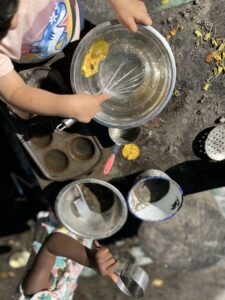 The children benefit from observing the natural changes occuring throughout the seasons and have such ample space to spread out and explore. They enjoy baking treats in the muddy kitchen, crawling through the nature tunnels, building in our nature construction zone, running freely in the grass, exploring water and water play in the water-science zone, and utilizing the wisteria arch as a meeting zone.
Throughout the seasons, there are special activities the children get to enjoy. In the Spring, we filled the garden beds with flowers on gardening day-each child bringing with them a plant or flower for our gardens. In the fall, we collect symbols of new growth and rake piles of leaves, creating scarecrows. In winter, we roll snowballs and slide and roll down the hills. In the summer, we watch the flowers bloom and the monarch caterpillars munching on green Milk weed. Our playground is a magical place for all of us.