Special Blessing's Childcare
Wow Exciting!! This is our 10th year in recertification!! We have had the opportunity to complete grants through these trying times of this pandemic. We were able to purchase many items to enhance our outdoor environment in the Spring. We spent more time outdoors than indoors learning & exploring in the "Outdoor Adventures Classroom" this past year. Whether it was exploration being creative and imaginative or naptime under the clear blue skies on occasion.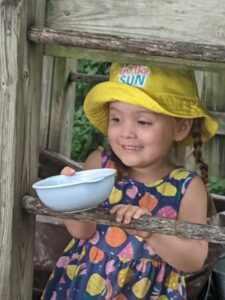 Maintenance is an ongoing process through Kansas's un-predicted weather. We engage daily in the outdoor environment through learning activities and exploration. That means in any kind of weather we are equipped with rain gear, snowsuits, hats, mittens, winter boots, sun hats and rain boots.
The children's favorite spots this past year have gravitated to digging in the dirt, engaging in the garden and the mud kitchen. Children have the opportunity to enjoy many areas in the Outdoor Adventures Classroom from the water feature, water pump, music, fairy houses, building, gardening, games, drawing, painting, loose parts building and story time.
We offer physical activity such as climbing, pushing wheel barrows, wagons, bikes, games and yoga on occasion with individual mats. We engage in multi-sensory activities which are crucial with multi-medium nature experiences which stimulate and drive positivity and mental states such as tranquility, calmness and peace. Outdoors is a learning time through play and engaging in our environment.
We continue to plant and harvest our garden each year and bring produce inside for classroom meals and snacks. We often share produce with our families. We planted potatoes this year along with tomatoes, bell papers, herbs, strawberries and thorn less blackberries. We added some gardening containers this winter and added a cattle gate, arching across the raised beds, to try green beans this next gardening season.
Special Blessings Child Care is a Licensed Family Child Care located in Emporia, Kansas. We have been Nationally Accredited through the National Association for Family Child Care (NAFCC) since 2009. I am proud to serve on the Board of Directors as Secretary since 2018- current. I have been a collaborating partner with Early Head Start since 2011. I am a CCNP Child Care Certified Nutritional Professional through the National CACFP Association since 2020. Providing Quality Care for families and children that I serve daily is very important to me.
I am truly excited that we have held our certification for 10 years! I see a celebration with children & families coming soon! I will be attending the Nature Explore Leadership Institute this summer for new ideas and refreshment for me to bring back and share!