St. Andrew's Preschool
Our Nature Explore Classroom is a vital part of our program and getting outside is one of the most anticipated parts of the day at St. Andrew's for children and adults alike! During the week, more than 150 children ranging in age from 2 to 12 years old, use the outdoor classroom every day. It is a place where children have the opportunity to work collaboratively on a grand creation or find a quiet spot to explore or imagine on their own. It is a space that allows children to take on new challenges and explore healthy risks. A place to wonder over God's wonderful creation.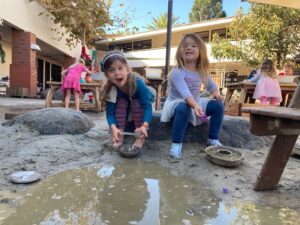 This year, as a staff, we longed for the children to be able to use the space the way it had been originally intended, which is to be able to freely choose the area in which they would like to play. However, we realized that in order to accommodate health and safety standards we would have to divide our space into three separate play environments through which the different classes rotate on a weekly basis. We have worked diligently to include as many of the Nature Explore principles as possible in each of the three spaces, such as a Nature Art Area, Messy Materials, Building Area, etc., so that children would still have opportunity to connect with natural elements and experience similar play opportunities every time they are outside.
What we found in this season were underutilized spaces that were ready for discovery and adventure, and that also provided new connections to nature! For example, our Action Area has always been a nice large space for bike riding and sport activities but this year we found that this space was capable of providing so much more. With an abundance of sunshine it has been ideal for the addition of more indigenous plants, and has now become a home to many interesting insects and a great place to watch birds. Through this experience of separating and creating new play environments, we have been able to expand our Nature Explore Classroom!
This year taught us that small, overlooked spaces can have a big impact and to think creatively about the underutilized areas available to us within the environment. One of these areas is in our Sensory Garden. This small space is rich with a variety of plants that invite children to touch, smell, and see.
One of our goals this year is to partner with parents on our Outdoor Classroom Committee to build a sensory path along this space. The addition of the sensory path will allow children to not only experience the sense of touch with their fingers but will also enable them to explore different textures with their toes.