St. Augustine
Indian Mission School
St. Augustine Indian Mission School uses its outdoor classroom to promote a love for nature among our Native American students.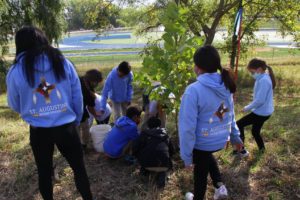 We promote cultural awareness by including plant species used for traditional prayer practices as well as native plant species historically used by the Winnebago and Omaha People.
We are currently in the process of expanding our butterfly garden and planting additional tree species. We have also begun the spreading of native prairie species seeds on a separate part of the school campus so that it can develop into a native prairie space. Our future plans include seeking grants to add a greenhouse to the outdoor classroom and serving as a pilot school for the Arbor Day Tree Campus K-12 Project.