St. Francis Episcopal Day School
Our Nature Explore Classroom is called "The Woods" after Henry David Thoreau's book about his life on Walden Book. Just as Thoreau encouraged people to go into the woods to live life deliberately, we at St. Francis, want our students and teachers outside learning about the natural world.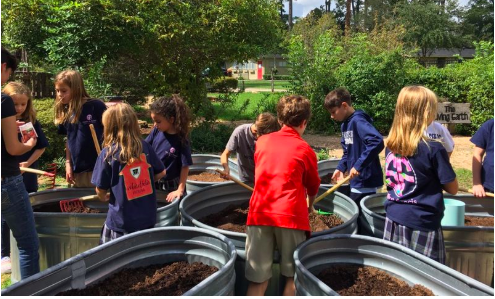 We use the Outdoor Classroom as an extension of not only Science classrooms but also a place for journaling in English classes and creating art. We also use it as a cultural experience such as the Spanish classes establishment of a monarch butterfly garden to attract the butterflies on their annual migration to Mexico.
For the staff, The Woods offers a place for Zen walks to relax or take their classes out for a moment of mindfulness.
Our community uses The Woods for scouting projects throughout the year and has been a part of three Eagle Scout projects.
"I went into the woods because I wished to live deliberately, to front only the essential facts of life and see if I could not learn what it had to teach." Henry David Thoreau