St. Francis Episcopal Day School
Our Nature Explore Explore Classroom, The Woods, is an integral part of our inquiry-based curriculum at St. Francis.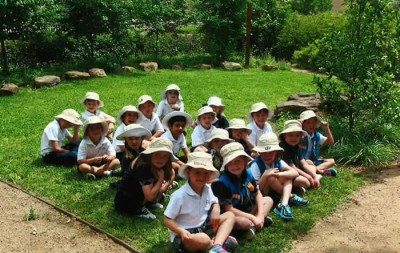 Our goal is for children from Primary School through 8th grade to explore the natural world on our campus and experience "real world" problem-solving using the outdoors.
Our teachers use The Woods in a variety of ways throughout the school year as both a teaching tool and an area of exploration. The youngest of students just love going outdoors to The Woods to look for lizards and butterflies and the occasional bunny. They draw pictures and create stories about what they observe. Listening to their "buzz" as they wander throughout the pathways is uplifting.
Our Lower School teachers use The Woods as a major part of their Science curriculum. They use both the above ground and ground level garden areas to plant seasonal plants and conduct both science and measuring activities. The students never knew there were so many kinds of peas!
The Language Arts teachers take students out for journaling sessions among the trees and give them an opportunity to just write about what they sense around them. One of the most enjoyable uses of The Woods is by the Art teachers of all levels. We have a set of Plexiglas easels set up in The Woods and they are used often to paint what the students are observing. However, the art students also set up "art exhibits" using natural items found in The Woods such as pine cones, pine needles, pebbles, leaves of all kinds, and feathers. A most enjoyable lesson each spring is the lesson on Van Gogh's "Sunflowers" where the students paint their own version on the outdoor easels.
We had two Boy Scouts build benches and bird houses for part of their Eagle Scout projects in The Woods. They also helped repair a portion of the fence. It is used after-school hours by the local Scout troop for activities and it is good to see them take ownership in the area also.
St. Francis Episcopal Day School is a mission of St. Francis Church. The church uses the area on the weekends also an alternative worship area for small children. The Woods is a remarkable setting for worship. We continue to use and enjoy our Nature Explore.
Debbie Harris, Science Department Chair