St. Luke's Day School
Our Nature Explore Outdoor Classrooms have been a vital component of our program during the pandemic, and continue to flourish thanks to the dedicated efforts of our staff and families. Restructuring of our outdoor schedule and rethinking our use of shared materials and resources has provided our children with rich experiences in a happy, healthy environment.
We are especially grateful for the ongoing support and encouragement of our families. Parent fundraisers emphasize the value of outdoor education, allow us to dream big dreams, and ensure the future of our classrooms by sustaining the development and maintenance of our spaces.
Spending time outdoors has never been more important or more appreciated. The unhurried exploration of God's creation, in all its beautiful facets, brings wonder and awe to our little ones each and every day! What a gift our Nature Explore Outdoor Classrooms have been!
"Who put the colors in the rainbow? Who put the salt into the sea? Who put the cold in the snowflake? Who made you and me?"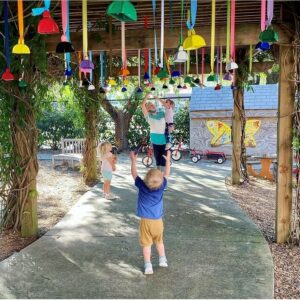 This cheerful installation was placed in honor of our parents. Each colorful cowbell represents a donation made in support of our Outdoor Classrooms.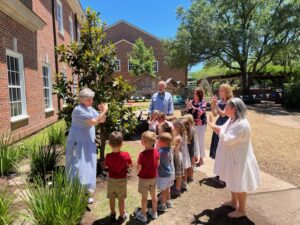 2022 brought the sad loss of our beloved Pre-K teacher, Ms. Minuta, whose passion for outdoor education inspired all of us. Her students gathered to sing "The Butterfly" song and water the beautiful magnolia tree planted in her memory.