St. Luke's Lutheran School
The Outdoor Classroom at St. Luke's Preschool is such a special part of our school. It is designed to have all the interest areas of an indoor preschool classroom, but it is all outdoors.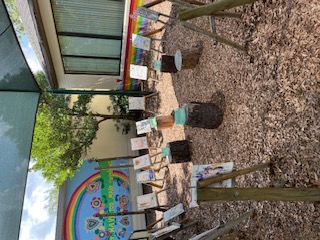 Our interest areas include Open Area, Dramatic Play, Sand/Dirt, Music/Movement, Building/Construction, Water/Sensory, Stage, Art Area, Chapel Area, Bamboo Reading Hut, Butterfly Garden, Sensory Garden, YEZ (Young Explorers Zone) and TEZ (Toddler Explorers Zone). We have a set curriculum with units of study each month. Each week the preschool classes will visit about 2-3 interest areas each day for about 30 minutes. Two of the days each week are Free Exploration days where the children can choose the area they would like to explore. The other three days are Instructional days, where the teacher chooses the area their class will be in that day.
Our Outdoor Classroom was developed by our principal, Ileana Barbari, and has been at our preschool for about 9 years now, however, we are always updating and improving our space. Finally, we have the Outdoor Classroom Lab which houses our animal friends. They include Fluffy the rabbit, Spike the land tortoise, Einstein the aquatic turtle, and Newton the hermit crab. Our lab also has interest areas like a magnetic wall, wind tunnel, document cameras, sensory bins light table and much more!