Steeple School of Trinity Church
Steeple School has had a wonderful inaugural year as a Nature Explore-certified outdoor classroom. As part of our ongoing commitment to nature-based programming in 2018, we developed an additional parcel of land on our campus which led to the expansion of our garden, mud kitchen and gathering areas. In addition, we added a new Fairy Garden which has proven to be a very popular space for the children, where they are encouraged to imagine and wonder.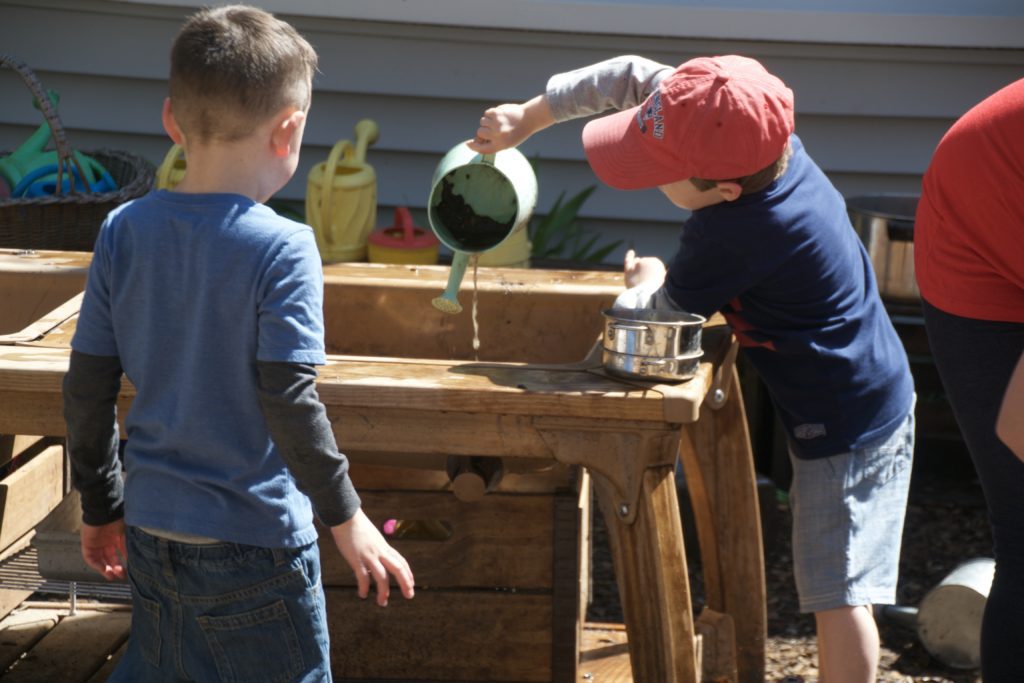 In the newly expanded garden, each class now has their own raised garden bed which the children maintain throughout the growing season, under the supervision of the school's education staff. As part of our gardening program, we continue to grow produce for our snacks, creating a true farm-to-table experience. Also during this year, we planted a sensory garden filled with plants of various colors, smells, tastes, and textures. When in full bloom, the children enjoy a stroll through the garden which delights each of their senses.
Our mud kitchen grew larger during our expansion and has quickly become one of the most popular centers. We also included a large digging area next to the mud kitchen, which gives the children an opportunity to work on their gross motor development.
This year, we added new natural wooden seating to our expanded gathering area. These beautiful cherry wood benches were harvested and milled on-site at a very old sawmill in rural Kentucky. The milled boards were personally hand-selected and transported to Massachusetts by Lynne Miner, Steeple's Director, where they were finished and fashioned into seating by Steeple volunteers. Not only have the benches been a wonderful addition to our outdoor classroom, they have also provided fascinating lessons about traditional wood harvesting, and insight into a very different community within our own nation.
During this year, we also expanded our nature trail which now follows the entire perimeter of the School's property. This trail takes hikers through the Pine and Oak forest, and across the varied terrain that makes Steeple School's campus so unique. All of our classes take full advantage of the trail which offers many wonderful lessons about our environment. Our future plans focus substantially on the expanded use of our nature trail, which has become a very popular component of our outdoor curriculum. Among those plans is the creation of a second gateway; an access point which will be adjacent to a new meditation garden. In addition, plans are underway for expanded use of the trail during the winter months, to include such activities as snowshoeing.
We consider the outdoor classroom at Steeple School to have been a tremendous success during this past year and look forward to new and even more exciting opportunities that will continue to provide the children with a basic understanding of, and appreciation for the natural world around them.
We greatly appreciate the support and encouragement of our staff, our Board of Directors, our parents, and all those who volunteer their time and effort to make Steeple School a wonderful learning environment.