Steeple School of Trinity Church
Steeple School of Trinity Church has never been more committed to outdoor learning than we are today. Over the past few years, our Nature Explore Outdoor Classroom has allowed us to maintain the most enriching, multi-sensory early childhood learning that we value most.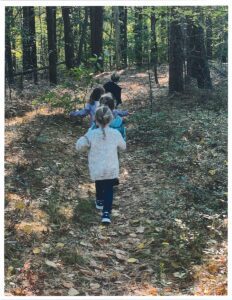 We continually enhance our Outdoor Classroom to teach across the diverse learning styles of every early learner. Ongoing additions have included a meandering brick paver walkway that connects each learning area. A thoughtful collection of native plantings are flourishing throughout our outdoor space, supporting our ongoing commitment to native pollinators and birds.
Our school partnered with a local nursery that provided organic soil, seeds and plantings that we use throughout our garden areas. Blueberry bushes and a pumpkin patch have also been added. The addition of large tree stumps that were harvested from fallen hardwood trees on the property and a variety of woodworking elements enhance the messy building areas. An all-weather platform stage and solid roofed arbor were built adjacent to the music area. This feature enables a kaleidoscope of silks to be hung, morphing it into many different uses throughout the seasons. The two music areas were each gifted free-standing, permanent marimbas.
To accommodate multiple classes in our expansive outdoor space, Steeple School added picnic tables, gathering areas, project platforms and dramatic play opportunities throughout. This magnificent, multi-sensory environment offers an array of experiences with soft grasses, rich soil, crunchy snow, slippery mud under feet, while grey-blue skies peak through the majestic maples and oaks that canopy our Outdoor Classroom.