Stepping Stones Nursery School
Passing by Stepping Stones Nursery school, you will find children outside in almost any weather.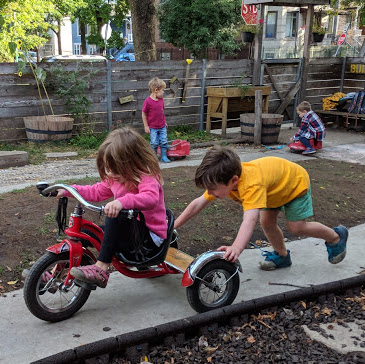 Our little ones may be creating yummy creations in the mud kitchen or counting the legs on a cicada. They may be laying on the hill watching the clouds or jumping in puddles on a rainy day. All of these experiences come with one unifying accessory – a big smile, and usually some pretty messy hands.
As our children grow, so does our outdoor classroom. This year alone we saw a wonderful addition of a new music wall – created with the help of one of our wonderful teachers and her father, as well as a new picnic table where children can gather in any weather for conversation, exploration, or just a quiet break.
Our outdoor classroom is the heart of our school. It's a place where children, teachers, and grown-ups come
together to wonder, play, and experience. It's where children can feel connected – to nature, to their environment
and community, and to themselves. Our wooden fence allows us to see out to firetrucks passing by, it encourages
curious glances and smiles from our neighbors as they see in. Our tree provides a place to rest in the summer
shade, and tasty berries in the spring. Our dig pit helps facilitate engineering and teamwork. Providing an
authentic nature experience is essential to our practice and we are so grateful to have such a beautiful space to
raise a new generation of adventurers.
Stepping Stones' Nature Explore Classroom continues to be built on collaboration. We would like to thank Rye
Builders for donating their time and carpentry skills, Lee Fink for creating a design for our vision, and the staff,
families and students of Stepping Stones for their hard work in creating Stepping Stones' Nature Explore
Classroom.