Sunflower Preschool
Sunflower Preschool has been utilizing its Nature Explore Classroom for many years. Due to the pandemic, and our goal of keeping everyone safe and healthy, we have engaged with our Nature Explore Classroom more than we have in the past. We feel so fortunate that we are able to provide ample time to help young children connect with nature, while also making sure that everyone stays healthy during this difficult time.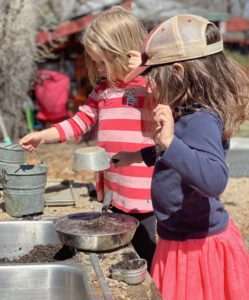 Our outdoor classroom consists of many different areas where children can challenge their abilities and imagination and learn how to connect with friends and nature at the same time. The children can often be found tending to our organic gardens, engaging in dramatic play in our outdoor theatre, digging and building in our massive sandbox, creating mud pies in our mud kitchen, building many different creations in our messy materials area, having lunch on our xeriscape berm, calming their senses on our multi-sensory pathway, and checking out our Coyote Willow House.
This year, we have focused on expanding many areas of our Nature Explore Classroom by seeing how the children use each area and asking how we can improve these areas with the help of the children. We have spent time speaking about our Coyote Willow House and the children decided that they would like to create a fun new sign for this area. We found a piece of wood in messy materials and the children helped design our new sign. It was really great seeing how we could add to this area with things that we found in other parts of our Nature Explore Classroom.
A few years ago, we were lucky enough to join the Boulder Farm to ECE program, which is funded by Boulder County and gives families and schools with all different socioeconomic standings, access to fresh fruits and vegetables. This program delivers fresh, locally grown, organic produce on a weekly basis, that the children can use for snacks, cooking, tasting, artwork, and more. We are also lucky enough to be able to send some of these items home with children and teachers.
We recently received some starters and seeds. The children have been busy watering our newly planted starters and seeds and they keep talking about how excited they are to be part of the entire process-–from planting to harvesting!
We have always known the importance of connecting young children to nature and we have always been very proud of our Nature Explore Classroom. These last couple of years have been difficult for everyone. At Sunflower Preschool, we are so lucky that we can provide a refuge for children to just be children and encourage them to explore our natural world!