Temple Beth Sholom
Early Childhood Center
Our outdoor classroom has changed greatly since we first became a Nature Explore Classroom.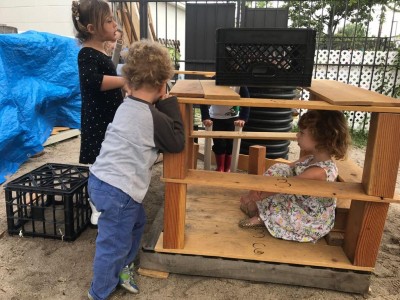 We have added an infant/toddler program to our site, and created a separate outdoor space for our youngest children. We are continually rethinking and creating new spaces for the children. Beginning from an almost empty palate we have added bridges, areas to paint, to read, a dramatic play, plants and a sand box.
Most recently, understanding the need for children to take risks, we have added more safe spaces for free play and risk taking. We relocated a dramatic play structure from an underused area into the sand box. With the house removed we gained a large open space in which children can build. We purchased lumber from our local hardware store and began creating a variety of lengths and shapes of finished wood to place in this area. Storage shelves, appropriately marked for each of the various sized wood pieces, is located at the side of this area. We also were able to find tires, wire spools, pallets, barrels and other recycled construction items for use in this area.
It is quite exciting to see the children, having already begun their planning in the room, run to the yard to construct a boat, or a house or just create multi-levels of wood. Through this process the children have learned how to balance the wood on both sides so the structure is secure and to use one block as a fulcrum. We are learning to refrain from interrupting the children as they complete their work. Each day brings something new.
We also reworked our garden this year. We built new, deeper planter boxes and have been experimenting with a variety of seeds and plants. Recently the children picked multi-colored carrots and radishes that they planted in January and February. The strawberries, planted slightly later, are just beginning to ripen.
Our plans for the coming year include a complete restructuring of our outdoor classroom. We are assembling a committee of parents, teachers and other community members to begin to imagine, plan, fundraise and ultimately rebuild our space. Look for more to come next year!