Tentinger Daycare Family Child Care Home
So much to explore in 2022 in our Outdoor Classroom. In the garden, we have plants that the kids are taking measurements to see how much they are growing. We even pulled some up so we could see the roots, sliced them in half, and saw all the parts up close. The kids love taking care of the plants and making sure they have enough water.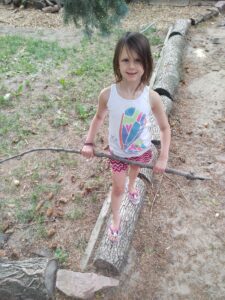 We have also found so many interesting bugs and flying insects this year! We have been examining bugs up close with our magnifying bug viewers. The children have loved discovering bugs they have never seen before.
This last year the kids expressed concern about the birds making their nests and laying their eggs in not-so-safe places, so they decided they wanted to build safe bird nests for the birds, trying several things and leaving them around the space. The birds did not use their creations, so this year we now have new bird houses that are placed all around the Outdoor Classroom. The kids have really enjoyed seeing even more birds fly in and out of the area.
The kids have been working very hard on their Physical Activity skills. We have added a slack line, hanging obstacle course and several tree swings to our Outdoor Classroom. The children are building muscles and confidence all while enjoying the great outdoors. Here at Tentinger Daycare the children know that: Adventure Awaits…Come Explore Us!  -Ann Marie Tentinger