The Brenton Arboretum
Lake Homestead is just a short walk from the O'Brien Nature Play area and features a marvelous floating water deck complete with shade umbrella and benches.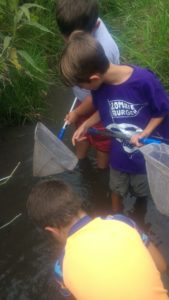 In addition to being a gorgeous spot to relax and take in the sights and sounds of the pond, it serves as an extension of our Outdoor Classroom for both field trip groups and visiting families.
Thanks to a generous 2016 grant from the Dallas County Foundation, the Arboretum was able to purchase many new pond and insect nets for use with field trip students. Since putting these new pond nets into use for field trips, much of our old equipment has been made (seasonally) available to visitors to use at their pleasure.
The water deck on Lake Homestead allows youth and adults alike to explore the aquatic life in and around the pond. While many may set out to "catch fish" (note: we do not allow fishing!), once they begin dipping, they're instantly delighted to learn that dragonflies and damselflies begin their lives underwater and are often shocked at the variety of life that comes up with each scoop. Tadpoles in various stages of development are always a favorite catch!
On your next summer visit, just look for a box underneath a sycamore tree between the water deck and the road to find our pond exploration equipment. Just remember to use it respectfully and return it when you're done so others may share in the joy of catching their own crayfish or minnow or tadpole!