The Nature Explore Classroom at
The Butterfly House at
Virginia Theological Seminary
We are The Butterfly House! A non-profit, early childcare facility, located in Alexandria, VA on the beautiful campus of Virginia Theological Seminary! We are surrounded by beautiful spaces full of nature where the children are encouraged to explore! We are a play-based, Reggio Emilia inspired facility that takes pride in our children's everyday learning experiences.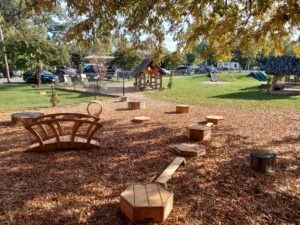 Our philosophy is heavily based around outdoor learning experiences. We offer children a path to self-expression, communication, logical thinking, and problem-solving. We encourage diversity in all aspects of our program, invite family participation, and foster positive community relationships.
We believe when children play outside in an unstructured setting they are free to create, engage in dramatic play, explore freely, and so much more! Because there are no pre-established rules to these activities, children often use creativity and problem-solving skills to create them. The regular use of creativity, critical thinking and problem-solving skills in an unstructured outside setting means that children are more likely to have these skills in the classroom and future careers.
Our Outdoor Classroom is used in so many ways. Children engage in unstructured gross motor experiences, teachers facilitate open-ended learning opportunities, children engage in both parallel and cooperative play, and the larger community collaborates together in order to take care of our natural space.
Our Outdoor space provides the perfect setting for all subjects!
Our Outdoor Classroom includes a Building Area, Music & Movement Area, Water Area, Action Area, Nature Art Area, Gathering Area, Calm Corner, Sand Area, Dirt Digging/Messy Materials Area, Garden Area, Secret Garden, Climbing & Crawling Area, Discovery Area, Weaving Area, Wheeled Toys Area, and Imagination/Drawing Tree.
A special THANK YOU to ALL who helped us create such a special space.
"Play is the Highest Form of Research." -Albert Einstein
Address
3800 Butterfly Lane
Alexandria, VA 22304