The Child Centered Home
We got a new fence for our Outdoor classroom, so we had to do some rearranging.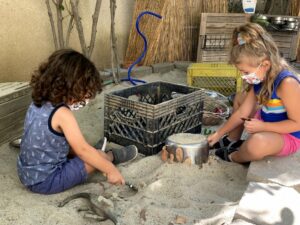 We moved our tire garden closer to the grapevine teepee because it was right next to the fence that was being replaced. We planted the tire garden with herbs, and low and behold…..a raccoon found the garden. Did you know that raccoons like Garlic Chives? Yep! That's the only herb the raccoon decided to enjoy.
We did end up cutting down a tree to make it possible to put in a gate to the outdoor classroom. However, we did keep most of the tree and now it's a balance log. We've seen so much wildlife in our outdoor classroom this year. An owl spent most of the day in a tree one day. The crows didn't like that. A mother hummingbird created a nest in the tall bushes above our sandbox. We've
seen lots of butterflies this year. It's been a really great year!