The Children's College
We are small but we are unique. We have more of a home-like feel even though we are a child care and we believe children will be more effective in a setting more mirrored to their home life and have a sense of security.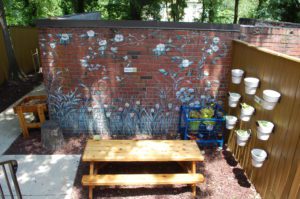 Using the outdoor classroom and our tree-lined neighborhood setting, it feels like we are going on a field trip every day to get away from some of the rote learning. We witness the excitement on the children's faces every day to discover something new in our outdoor classroom. Whether it's a worm they find by digging in the ground or the sound of a bird they may never had heard. They stop and listen or grab a pair of binoculars to look for the sound.
We believe children need to be outdoors to stimulate their physical, cognitive and social and emotional development. While outdoors, they can also learn through other domains, which are scientific and mathematical thinking, the arts, and social studies. Being outdoors can be a confidence booster for children, it allows them to play unstructured and letting the child choose how he or she treats nature which means they have the power to control their own actions. It also promotes creativity and imagination it allows their creativity to flow and create their own activities.
Once you see a child moving in nature and the stimulation it provides, where it activates and heightens the senses you will always want to join in. This is what highlights our place….